The Walking Dead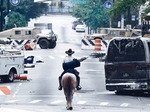 Waking up in an empty hospital after weeks in a coma, County Sheriff Rick Grimes (Andrew Lincoln) finds himself utterly alone. The world as he knows it is gone, ravaged by a zombie epidemic. The Walking Dead tells the story of the weeks and months that follow after the apocalypse. Based on Robert Kirkman's hugely successful and popular comic book series, AMC's new original series, The Walking Dead, premieres with a 90-minute episode on Halloween night: Oct. 31 at 10/9c. Written and executive produced by three-time Academy® Award-nominee Frank Darabont (The Shawshank Redemption, The Green Mile), who also directs the pilot, and executive produced by Gale Anne Hurd (The Terminator, Aliens), the series debuts during AMC Fearfest, the network's annual blockbuster marathon of thriller and horror films.
The Walking Dead is an epic, edge-of-your-seat drama where personal struggles are magnified against a backdrop of moment-to-moment survival. A survivalist story at its core, the series explores how the living are changed by the overwhelming realization that those who survive can be far more dangerous than the mindless walkers roaming the earth. They themselves have become the walking dead.
Shot on location in Atlanta, The Walking Dead is led by a cast that includes Lincoln (Teachers, Love Actually) as Rick Grimes, Jon Bernthal (The Pacific, The Ghost Writer) as Shane Walsh, Sarah Wayne Callies (Prison Break) as Lori Grimes, Laurie Holden (The Shield, Stephen King's The Mist) as Andrea, Jeffrey DeMunn (Stephen King's The Mist, The Green Mile) as Dale, Steven Yeun (The Big Bang Theory) as Glen, Emma Bell (The Bedford Diaries) as Amy and Chandler Riggs (Get Low) as Carl Grimes.
Joining Darabont and Hurd as executive producers are Kirkman; David Alpert from Circle of Confusion; and Charles "Chic" Eglee (Dexter, The Shield). Jack LoGiudice (Sons of Anarchy, Resurrection Blvd) serves as co-executive producer with Denise Huth (Stephen King's The Mist) as producer. The Walking Dead was written by Darabont, Eglee, LoGiudice, Kirkman, Glen Mazzara and Adam E. Fierro. In addition to Darabont, directors for the series include Michelle MacLaren, Gwyneth Horder Payton, Johan Renck, Ernest Dickerson and Guy Ferland.
Episodes
Episode 1 "Days Gone Bye"
Rick searches for his family after emerging from a coma into a world terrorized by the walking dead. Morgan and Duane, whom he meets along the way, help teach Rick the new rules for survival.
RTÉ Two, Monday 30 May 2011, 9.55pm