The Ultimate Guide to Everything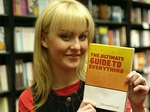 Do you want to change your life, find a husband, a dream date? Just what is the secret to happiness? Would you like to reinvent yourself? Find the job you were born to do? Put the spark back in your relationship? Or make yourself thin? No matter what the problem, you can be guaranteed that there is a book out there that promises to help you solve it.
Love them or loathe them, self-help books are everywhere, appearing on bestseller lists throughout the world. Some see the self-help genre as a load of psychobabble, playing into people's insecurities and neuroses. Others believe that these books are really empowering, providing motivation and guidance. So can self help books really help or are they no help at all?
The Ultimate Guide to Everything puts self-help books to the test. In each episode, two members of the public takes one book and lives by the rules.
The series documents the varied results that ensue. Will they have mastered their own brains, learned to do things more efficiently, look fabulous, found a partner, or lived the good life with an amazing set of body language skills? Presenter Mairead Farrell observes and interacts with the participants, assessing the progress of each.
The 6 Self-Help Guides that have been selected for the series are: Superdate by Tracey Cox, 6 Day Body Makeover by Michael Thurmond, Fast Track To Happiness by Lynda Field, The Work We Were Born to Do by Nick Williams, The Secret by Ronda Byrne and I Can Make You Thin by Paul McKenna