The Symphony Sessions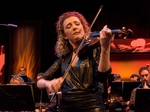 RTÉ One's new series of The Symphony Sessions showcases the overtures, short pieces and concertos which flaunt the exuberance, drama and sheer beauty of orchestral music. And once again, the series brings us behind the scenes to meet soloists, conductors and the members of the orchestra - the human beings behind the terrific performances.
Enjoy the romantic delirium of Beethoven's Piano Concerto No. 3, with Barry Douglas directing from the piano, the gipsy fervour of Sarasate's Carmen Fantasy with violinist Elizabeth Cooney, Emer McDonough in Mozart's lyrical Andante in C, and the haunting Fratres by Arvo Pärt.
The Symphony Sessions is hosted by the acclaimed pianist/conductor Barry Douglas, joined by conductor David Brophy and soloists including flautist Emer McDonough, Youghal-born trumpeter Mark O'Keefe, violinists Elizabeth Cooney and Alan Smale, and clarinettist John Finucane.
Join us in the dressing-rooms, eavesdrop on rehearsals and relish the performances of virtuoso soloists and the musicians of the RTÉ National Symphony Orchestra in The Symphony Sessions.