The Secret History Of The Eurovision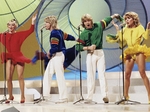 Where did the Eurovision fit into the fall of Communism, the Prague Spring and the conflict in the Balkans?
Were the songs and the costumes connected to the intrigue of political history?
What about nul points and so called 'block voting'? Or is it all just entertainment?
This programme takes in the singers, the songs, Ireland's great winning streak, the controversies, the scandals and the behind the scenes events in over 50 years of the world's favourite TV show.
It features innterviews with Eurovision legend Johnny Logan and Niamh Kavanagh along with voiceover by Marty Whelan.
RTÉ One, Monday 02 May 2011 10.30pm