The School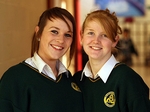 The School, is a new land mark documentary series for RTÉ Television, following the students and teachers of St Peters College Dunboyne over one academic year. Award winning company Scratch Films began filming the series in September 2008 after months of careful negotiations with County Meath VEC. Never before has an Irish school given such unlimited access to film makers, allowing camera crews to document every aspect of school life.
Principal Eamon Gaffney was initially reluctant to open the doors of the school he built up from nothing fifteen years ago. But he felt his staff had nothing to hide, quite the opposite in fact, here was a great school, producing great kids, ready to make a great contribution to Irish society. He knew it was important for parents to see the commitment his staff gave to all of the students, to highlight the role they play in shaping well rounded individuals. And even though sometimes they are tough, they are always fair.
Over the next ten months, series directors Liam McGrath and Paula Rouse, accompanied by producer Tony Deegan, began documenting every aspect of school life at St. Peters. But in order to capture the vitality of the school they needed to take a unique approach; so they set up diary rooms inviting students and teachers to speak their minds to un-manned cameras. They trained the students to use the equipment, encouraging them to record school life through their own eyes. And all the while the students filmed themselves, the series directors filmed the students. And together, they have created an insightful, touching series, capturing a year in the life of The School.
The three part series is spread across the three school terms; Episode One begins in September and follows the students until December. Episode Two picks up in January until March and Episode Three records school life from April until June 2009.
A number of students re-appear across the series, giving viewers the opportunity to follow the ups and downs of their school year. Band members like Adam and Donal, who just seem hell bent on stretching every rule in the book for their last year of school life. Or fifth
year Conor, whose months of rehearsals are jeopardised by illness on the eve of the school musical; or the pressure felt by sixth year students including Claire and Niamh, who are about to confront one life changing exam.
Other stand alone stories include students coping with dyslexia and behavioural problems, a school break-in, parent teacher meetings and a constant stream of students who refuse to follow a strict uniform code.
But the series also reveals another side of school life, the men and women who share the responsibility of teaching these young students. From dedicated young teachers like Ms Caroline Toole, to veterans like Mr Robert Gannon, a teacher with 35 years of service, to deputy principal Ms Maureen Murray and the important work of school councillors like Jimmy O'Connell.