The Savage Eye Christmas Special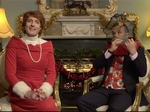 'Why do the Irish Love Christmas?'
What makes an Irish Christmas? Horrible jumpers, forced togetherness, the office Christmas party, the Toy Show?
The Savage Eye is back for a special Christmas episode to give us some answers to the most important questions we have about Christmas. So join The President for Life, The Ministers, Bull Mick with some more familiar faces to take a long hard look at the Irish festive experience and why we love it so much.
Featuring a cast of well-known comedians David McSavage, John Colleary, Pat McDonnell, Dermot McMorrow, Sonya Kelly, Fred Cooke and Eleanor Tiernan, The Savage Eye continues its efforts to satirically document Irish society from its origins to the present day, blaming the British, the Government and the Catholic Church for almost all of our shortcomings.
RTÉ Two, Saturday, 10.30pm