The Savage Eye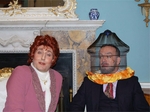 THE SAVAGE EYE returns a third series on Monday 19th of March. The critically acclaimed series takes a satirical look at subjects close to the hearts of the Irish people. It takes the form of a fake anthropological documentary as if made by British television. However, the series is in fact a scripted comedy show, with sketches performed by a number of well-known Irish actors and comedians, including David McSavage, John Colleary, Pat McDonnell, Dermot McMorrow, Sonya Kelly, Fred Cooke, and Eleanor Tiernan!
The series welcomes back much loved familiar characters and situations, while each episode will also showcase characters and sketches that are unique. Returning for yet another round of hilarity are The Politicians, The President for Life and her Housebound 'It", The Bull Mick, the child-snatching Priest and many more! Following the success of the songs from last series such as 'Overpay Us' these will also return in Series Three, where we have parodies of tracks such as 'Brewing Up a Storm' riffing on the civil service, and more.
Each show explores one subject and is framed around a question that the show then seeks to answer through the positing of a number of reasons (which may be at times accurate, at times ridiculous and purely for comedic effect).
By the time the show comes to an end it will have reached some kind of conclusion and make predictions for the future (however outlandish.).
Series 3
Series 3 is directed by Damien O'Donnell, written by and starring David McSavage, John Colleary, Pat McDonnell and Dermot McMorrow, and produced by Katie Holly for Bl!nder Films.
Series 3 of The Savage Eye explores the following topics:
Episode 1 - POLITICS: Why can't the Irish Rule Themselves?
Episode 2 - TV: Why are the Irish so Addicted to their Television?
Episode 3 - FAMILY: What's so Grand about the Irish Family?
Episode 4 - UGLY: Why are the Irish so Ugly?
Episode 5 - EDUCATION: Why is Ireland so Proud of its Education System?
Episode 6 - WORST PLACE: Why is Ireland the Worst Place to be Irish?