The Reel Deal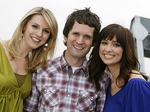 The Reel Deal is an upbeat traditional music series with a contemporary twist. This lively dynamic series for young people, features 'up and coming' performers and is presented by three Aoibhinn Ni Shuilleabhain, Brian O'Connell and Blathnaid Ni Dhonnchadha, who all share and interest and passion for traditional music.
In the past traditional music was perceived by some as being old fashioned and the preserve of the older generation but there is now an awareness of the growing numbers of young people drawn to the music. The sound and style of the younger musicians certainly draws inspiration from the past generations but it's constantly changing and reflecting an air of confidence and experimentation not always found with older musicians.
The Reel Deal combines music, entertainment, performance with profiles of musicians and interviews and the series shot on location throughout Ireland, highlighting regional variations and styles in music.
As well as performances from the very best of young traditional musicians, the series includes regular programme strands such as: musician profiles, relevant feature items, exciting music videos and 'Drawing from the Well' where two musicians from different generations get together.