The Model Agent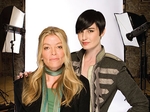 The search for Ireland's next supermodel begins on The Model Agent.
Ellis, one of the world's most successful model scouts, is the Model Agent and she is joined by international supermodel, writer and broadcaster Erin O'Connor in the quest to find the next Irish supermodel.
(Fiona) ELLIS, one of the world's leading model scouts travels around Ireland seeking new model talent for London based company Independent Models. 12 girls are chosen as finalists and their potential assessed, but only one girl can win. The prize? A contract with Independent Models, one of the world's leading agencies and a cover of Image magazine, one of the country's most high profile and respected fashion titles. The winner will be the first Irish girl to grace the cover of Image in 15 years. Supermodel Erin O'Connor is on hand to mentor the 12 lucky finalists, giving them first-hand advice based on her highly successful career.
The pair are looking for that special something, a face that can fill the side of a building, stop the traffic, sell a beauty product or define the newest line in fashion.