The Mentalist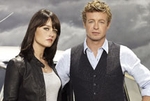 Golden Globe and Emmy® Award nominee Simon Baker stars as PATRICK JANE, an independent consultant with the California Bureau of Investigation (CBI), who has a remarkable track record for solving serious crimes by using his razor sharp skills of observation and psychological manipulation. Notorious for his lack of protocol and past as a former psychic medium, whose paranormal abilities he now admits he feigned, Jane's role in cracking a series of tough high-profile cases is greatly valued by his fellow agents. However, no-nonsense Senior Agent TERESA LISBON alternates between reluctantly acknowledging Jane's usefulness and blasting him for his theatrics, narcissism and dangerous lack of boundaries. Lisbon's team includes agents KIMBALL CHO, WAYNE RIGSBY and GRACE VAN PELT, who all think Jane's a loose cannon but admire his charm and knack for clearing cases.
Created and executive produced by Bruno Heller ("Rome"), the series is produced by Warner Bros. Television and distributed internationally by Warner Bros. International Television.
Season 5
Jane and the team are back to work and all charges from the end of last season have been dropped as the CBI and FBI both attempt to cover up Jane's unsuccessful take down of Red John and Wainwright's death. This doesn't sit well with FBI field agents Mancini and Smith, who show up at the CBI's first crime scene and attempt to take over the case. Despite the teams almost coming to blows, re-instated CBI director Gale Bertram tells everyone that they have to get along for the sake of the cover-up. Of course, Jane isn't much for taking orders, nor is he happy when the FBI announces that they want custody of Lorelei Martins, the Red John disciple who Jane believes is the key to finally capturing the elusive killer.
Meanwhile, the team attempts to solve the murder of two retail workers - a man and a woman - whose bodies are found in a Sacramento apartment. While the victims were co-workers, they didn't seem to be lovers or even friends. While Jane misdirects the FBI into pursuing a dead end, he and the team investigate how the victims were connected. .
Cast
Simon Baker - Patrick Jane
Robin Tunney - Teresa Lisbon
Tim Kang - Kimball Cho
Owain Yeoman - Wayne Rigsby
Amanda Righetti - Grace Van Pelt
RTÉ One, Tuesday, 10.35pm