The Limits of Liberty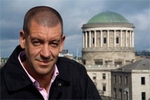 This unique 3-part series is a history of 20th Century Ireland presented and co-written by historian Diarmaid Ferriter.
The Limits of Liberty is the story of Irish Independence. How governments of the early decades of independence were preoccupied with one overriding issue, power. Power held by small elites in what would become one of the most centralised countries in Europe. This is the first television history of Ireland since the early 1980s and sets out to re-examine the received opinion of the foundation of the State.
Programme 1
Part 1 examines The War of Independence; The Civil War; The bombardment and destruction of the public record office; The breaking of the 1922 Postal Strike; lack of childcare in the early Free State and the subsequent consolidation of the relationship between Church and State; The Eucharistic Congress; The founding of the Pioneers and the enduring power of the works of Sean O'Casey.
Programme 2
Part 2 looks at a country emerging from the trauma of the Civil War. It illustrates how a much needed clean up of corruption at local government level also meant an ever increasing concentration of power at the centre of government. This preoccupation with power left little political will for delivering on the promises of the Democratic Programme. Promises that life would improve for the hundreds of thousands who were still in need of very basic services in the 1930s and 1940s. As a result the challenge to improve conditions would be taken up by the people themselves. Self help and voluntary organisations would provide the will power and the man power which would bring about profound social change in Ireland.
Programme 3
Part 3 of The Limits of Liberty documents some of the great power struggles and causes of the second half of the twentieth century. Strikes, public protests, feminism, sexual liberation and historic legal cases that were fought on the principles of individual rights, the victories that would change Irish society forever.
RTÉ One, Tuesday 1 June 2010, 10.15pm
RTÉ One, Tuesday 8 June 2010, 10.15pm
RTÉ One, Tuesday 15 June 2010, 10.15pm