The Home Place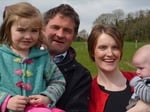 This programme is part of the Heart|Land season
In an RTÉ season of radio and television documentaries, through poetry and music - live and broadcast, Heart|Land (8-15 May) rejoices in the land and the landscape of Ireland and explores rural life in the 21st Century.
This two-part documentary series by acclaimed director Sean Ó Mórdha explores the history of the Irish family farm - and the silent revolution underway in rural Ireland as small and medium-sized farms are eroded and the rural community merges with urban Ireland. The farm was the site, which gave expression to allegiance and identity in the ebb and flow of history in rural Ireland. People through the decades carried their farming background, their loyalty to townland and village as a badge of identity. All of this is changing with rapidity as we watch rural Ireland merge with urban Ireland. A new society, a changing economic and social way of life is evolving throughout the Irish landscape.
This documentary series tells the story from inside rural community. Filmed on location with selected family farms, a distinguished group of scholars and experts, all born and reared in rural country contribute with knowledge of geography, history, politics and their culture.
Filmed on location with selected family farms, it features the O'Gradys of Clogheen, the Nolan's of Mellison (both in Tipperary), the MacEntees of Charlestwon, Co. Louth, the Careys of Doolin in Co. Clare and the Robinsons of Bandon, Co. Cork.
A distinguished group of scholars and experts, all born and reared in rural country contribute with knowledge of geography, history, politics and their culture:
William J. Smyth (Geography, UCC);
William Nolan (Geography, UCD)
Tony Varley (Political Science UCG)
Anne Byrne (Sociology UCG)
Terence Dooley (History, NUI Maynooth)
Ethel Crowley (Sociology TCD)
Caroline Crowley (Research Unit, UCC)
David Meredith (Teagasc)
Part two - Tuesday 10 May, 10.15pm, RTÉ One
RTÉ One, Monday 09 May 2011, 9.35pm