The Genealogy Roadshow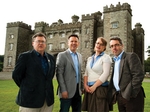 Do you believe you are related to someone famous? Is your family connected to a major historical event? Do you need to solve a family mystery?
Presented by Derek Mooney- The Genealogy Roadshow is the brand new series for RTÉ Television, that answers these questions.
Genealogists Turtle Bunbury, Nicola Morris and John Grenham are the shows the Roadshow's crack historical and genealogical team toured the country to help people verify their old family tales and hunches. Over the course of four episodes The Genealogy Roadshow has uncovered extraordinary stories on the branches of the Irish public's family trees and gives advice on how to track down your own family history.
Follow these stories and more in 'The Genealogy Roadshow', at 6.30pm on RTE One beginning on Sunday 21st August 2011.