The Fields of Athenry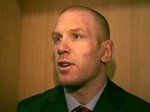 This unique and uplifting documentary tells the story of the highly popular sporting anthem The Fields Of Athenry. Originally written in 1979, by songwriter Pete St John, this melodic folk song set in the great famine, has become a sporting anthem for millions of fans and players alike.
From Thomond Park to Croke Park, from Lansdowne Road to Celtic Park, from Liverpool's Anfield to every Irish pub at closing time across Europe, America, Australia and beyond, The Fields of Anthenry has become a sporting anthem for millions of fans and players alike. The song's extraordinary galvanising and motivating effects are both inspirational and legendary - whether it be Celtic, Munster, Liverpool, the Irish Rugby team or the Republic of Ireland soccer team, it lives through every sports fan who shares an affinity with Ireland, our past and our future giving people an immediate identity - a voice, a common thread, a unifying force for Ireland's sporting diaspora.
This documentary uncovers the roots and journey of this sporting anthem and in doing so revealing what this song means and to whom. It is an adventurous trek of discovery into the heart of the Ireland's sporting diaspora delving into the political, historical and economical aspects that links us to the song and to each other. Song and singing is a cornerstone of cultural expression on this island. The Fields of Athenry is part of this on going tradition, a traditon that is alive and moving with the Irish people and Ireland's emmigrants where ever they go. It has become the lynchpin in the cannon of Irish folk songs, sung with gusto everywhere from enormous stadiums to dusty backroom bars alike.
In many ways The Fields of Athenry reflects the unbreakable spirit of the Irish people through times of past difficulty - political unrest, poverty and forced immigration. This will be paralleled with current difficulties as we explore sport as an emotional outlet - a place where pride can be retained or restored to a nation. The documentary travels to different cities and different matches: Celtic in Glasgow, Munster in Limerick, Republic of Ireland on an away game, Liverpool in Anfield, revealing the stories of the clubs, reliving the great moments from their past, meeting and talking to players, pundits and fans to allow the audience connect on a truly authentic and emotional level. Every fan, every giant of their game and every commenator has their moment, their story of when this song played it's part in affecting them or their team - the stories are exhilerating, gritty and often humorous, the moments are sometimes triumphant sometimes heartbreaking but alway monumental.
The Fields of Athenry features Pete St. John, Paul O'Connell, Roy Keane, Donnacha O'Callaghan, Jerry Flannery, Ronnie Whelan, Paddy Reilly and many others from the world of sport.
RTÉ One, Tuesday 28 December, 10.45pm