The Festival Roadshow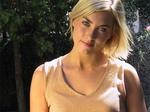 In this three-part series, Kathryn Thomas brings us the flavour, excitement and craic right from the heart of some of Ireland's greatest festivals. She'll be joined by roving reporter Rob Ross.
Every summer, Ireland comes alive with over 250 festivals of every size and type, attracting an astonishing five million people. Each week, The Festival Roadshow will be be broadcast from the very heart of a particular Irish festival, bringing viewers the sounds, tastes and experiences on offer, while celebrating the craic, tradition and community spirit that lie at the heart of this great Irish institution.
As well as live music, dance and comedy performances, each week a local chef will create fast and affordable summer street food, while a well known resident will also join Kathryn to give viewers an insider's guide into their locality.
Episodes
Programme One: The Galway Arts Festival
On the 23 July will feature The Galway Arts Festival, programme two will be broadcast from the The Killarney Summerfest/ 3 Irish Open on the 30 July, while the final programme will be broadcast from The Kilkenny Arts Festival on Friday 6 August.