The Dealers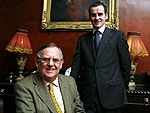 Two experts, two teams, two auctions - the team that makes the most profit wins. The Dealers sets two pairs of antiques enthusiasts against each other to brave the highs and lows of buying and selling antiques at auction.
THE DEALERS
Lifelong antiques enthusiast and president of the Irish Antique Dealers Association, George Stacpoole, and Art Deco specialist Niall Mullen who grew up in the antiques business.
THE PLAYERS
Carol Butler was an avid collector of Nicholas Mosse pottery when, on holidays in Kilkenny one year, she spotted an advertisement for a job at the Nicholas Mosse studio. She applied, got her dream job and moved to Ireland! Eight years later she still loves it, and has also developed an interest in antiques. She organises a monthly girls night out and the 'auction circle' attend a local sale in the hope of finding a hidden treasure.
After finishing a degree in languages, Mary Conneely spent time living in France where she discovered a love of antiques at the wonderful markets in Paris. On returning home to Ireland she got a job in an antiques shop in Dublin and has worked there ever since. Mary likes to go to local auctions and always has her eye on the jewellery on offer.
THE AUCTION
The village of Goresbridge, Co. Kilkenny is home to the Donohue family who host Europe's biggest horse sales. But four times a year auctioneer Martin Donohue puts the horses out to grass and fills his sales-ring with antiques for auction. Known for his speedy sales Martin gets through almost 1,000 lots at his sales, and tonight is no exception. Our teams are in for a long night.
AND.
On a sunny summer day a large white marquee was erected in the grounds of Farmleigh and people from all over arrived with objects of all shapes and sizes to the antiques valuation day. Our experts George and Niall were on hand to see if any family heirlooms turned out to be family fortunes.
RTÉ One, Tuesday 05 January, 7.00pm