The Consumer Show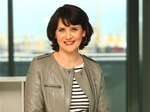 The Consumer Show is back, presented by Keelin Shanley, with reporters Tadhg Enright and Kathriona Devereux fighting for your consumer rights.
This Series Tadhg Enright examines the high cost of soft drinks in pubs, he looks at the rise of the boomerang generation, and gives simple tips for the home which could save your child's life.
Kathriona Devereux finds out how to slash your drug costs, discovers the reality of living on a tight food budget, and asks whether e-cigarettes are putting the glamour back into smoking.
We'll be helping to make your life easier by putting products through their paces. Miss Ireland contestants will be trying out curling wands, the hairy hounds at the Dogs' Trust will be taking on pet hair vacuum cleaners, and ever hopeful of a sunny Irish summer chef Kevin Dundon will be turning up the heat on three different BBQs.
All that, plus much more in the fifth series of The Consumer Show.

Over the course of the whole series, The Consumer Show will be responding to individual consumer problems and complaints: consumers can talk to us directly by calling 01 208 4636 or emailing us at consumers@rte.ie
RTÉ One, Wednesday, 8.30pm