The Committee Room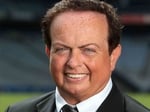 Every GAA member knows that the committee room of any club or county is where it all happens. This summer as the GAA Championships kick into gear, RTÉ brings its own refreshing take on this long standing institution with our Chairman, the ever-popular Marty Morrissey, and a selection of high profile "Committee Member" guests.
With a fresh approach and new strands, the show will be the first port of call for in-depth discussion and features as the championships wind their way to those elusive September Sundays. Broadcast live from studio, the show will be a mix of feature interviews, issue-based discussion and interactivity.
By the middle of the week the dust has settled on the big games and it is big picture discussion, star names, engaging features and a start to the preview of next weekend's games that is required, which is exactly what The Committee Room provides. In addition to the main studio discussion with our guests, there will also be a number features including interviews with injured players, plenty of nostalgia and issue driven reports.
Each week the public will have an opportunity to have their say about what topics are discussed on a Wednesday evening, as well as contributing to the debate itself. The Committee Room will also link up with RTÉ Radio 1's Take Your Point on Sunday evenings for competitions and to set the agenda for the week.
Programmes
Wednesday 14th September 2011

This week the Committee Room will be at the later time of 10.50pm on RTÉ Two
This week on The Committee Room, presenter Marty Morrissey and his panel concentrate solely on Sunday's All Ireland Football Finals, featuring Tipperary and Dublin in the Minor game, and the eagerly anticipated senior clash between fierce rivals Dublin and Kerry.
Donegal footballer Kevin Cassidy will share what he has learnt from his team's semi final defeat against Dublin while the rest of The Committee Room panel is made up of representatives from both of Sunday's senior finalists in former Dublin player and manager Tommy Carr, and former Limerick and Laois boss, Kerryman Liam Kearns.
Former Dubs star Jason Sherlock and Kingdom goal poacher John Crowley pay tribute to two of the top forwards in the game in Colm 'Gooch'
Cooper and Bernard Brogan, while the lads in studio will review the side's paths to the final and debate where the game will be won and lost.
Finally, Marty will force the panel to put their reputations on the line and predict who will lift Sam Maguire on Sunday evening.
Wednesday 7th September 2011
HURLING FINAL REFEREE BRIAN GAVIN ON THE COMMITTEE ROOM
This week on the Committee Room, Marty Morrissey and his panel look back on Kilkenny's win in last Sunday's All Ireland Senior Hurling Final. One man with a unique perspective was referee Brian Gavin who was in the middle of the action...and has a sore nose to prove it!
Joining Brian on the show are Sunday Independent journalist and disappointed Tipperary native Damian Lawlor, and Cork Camogie star Anna Geary.
The panel will also look ahead to this Saturday's U21 Final between Galway and Dublin and Sunday's Camogie Final between Wexford and Galway.
THE COMMITTEE ROOM, 8PM ON RTÉ TWO

RTÉ Two, Wednesday, 8.00pm