The Business: Series One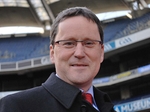 This programme is part of the Heart|Land season
In an RTÉ season of radio and television documentaries, through poetry and music - live and broadcast, Heart|Land (8-15 May) rejoices in the land and the landscape of Ireland and explores rural life in the 21st Century.
For generations, Irish people have been encouraged to move off the land and develop industry. Yet now, it looks like our agriculture and food industries could be the saviours of our economy. With food prices going through the roof, are we capitalising enough on what is our greatest natural resource?
The Business will explore the new face of agriculture in Ireland - from the 60 acre Glenillen farm which has managed to break through into the supermarkets in the UK with their yogurts and desserts to the largest and most advanced Danone baby food plant in the world - in Macroom; from exploring huge opportunities in seafood and fishing to making ready meals in Kinsale, our agriculture and food industry is changing rapidly. Our food is claimed to be the best in the world but will it make any difference to our economy if we don't know how to market ourselves? The Business will explore just how good our food industry is and how it can save us.
Episodes
Presenter George Lee explores the real people and stories behind the facts and figures of Ireland's business news.
Business news is not just market reports and currency speculation. It is real people and companies who actually start up, run and work in enterprises across the country. Each week, presenter George Lee will look at a different issue impacting on Ireland's business community - from start ups to exports, innovation to tourism - discovering inspiring stories of entrepreneurs who are defying the odds and creating successful companies.
Other episodes include offering the 5 Golden Rules to running a business in a recession, exploring the future of retail in Ireland, discovering the secrets to creating a good workplace, finding out what opportunities are there for Irish business in a global market and finally, and asks where does the future for Irish tourism lie.

Programme One: The Pop Up Bank
In recognition of how significant an issue credit issues are for Irish businesses, episode one meets some prospective funders and a range of small businesses looking for a capital injection. On the 8th February 2011, a 'Pop Up Bank' event was held at Croke Park in which over 250 small business holders had the opportunity to meet up with a range of prospective funders and investors.
The spirit of the series is positive and constructive so we decided to invite everyone who offers capital or credit in one room for one day and invited the public. The Pop Up Bank idea was born. George Lee
We got a great response, said Lee. Hundreds of people showed up and I'm delighted to say deals were done on the day and business found funding. It's amazing what can happen when money and ideas come together.
Tune in on Friday 4th March to see what deals were made, who went home happy and what can be learned about business and credit.
Programme Two: Defying The Recession
'From Beer to Boxes to Pigs Ears'
On tonight's episode of The Business presenter George Lee visits five Irish businesses that are thriving during the recession. He finds out the secret of their success and reveals The Business' 5 Golden Rules for starting up in a recession.
There will also be valuable business insights from some of the biggest players in Irish business including:
. Jerry Kennelly - Tweak.com
. Domini Kemp -Itsa bagel
. Nicola Byrne -11890
. Mary Ann O'Brien -Lily O'Brien's
. Pat McDonagh (Supermacs)
The companies George will visit are:
. VOYA organic seaweed, Sligo
. Bootcamp Ireland - Dublin base
. Dungarvan Brewing Company
. Cleverbox -Dublin
. Irish Dog Foods ltd.- Naas
Programme Three: Retail
What is the future for Irish shops?
In this episode of The Business, George Lee travels to the medieval city of Kilkenny to find out if this city's shopkeepers are once again, under siege?
Taking Kilkenny is a microcosm of what's happening across the country in Irish shops, George goes on a city-centre shopping trail of to see how the national issues like rents, prices and town centre trade are effecting the city's shopkeepers.
And a specially organised shop-keepers night offers the traders a glimpse into the future of retail.
Programme Four: Workplace Happiness
Seven out of ten of us are not happy in work but most of us do nothing about it. Tonight on The Business, George Lee is on a mission to discover the secrets of a happy workplace. It turns out happy employees are good for business but most employers ignore this at their peril.
George gets behind some of the biggest brands in the world - Google and McDonalds - to find out more about how they treat their employees. And he speaks to all the experts to find out the secrets of a happy workplace and exactly how to create it.
Programme Five: Silicon Valley
Presenter George Lee visits Silicon Valley to see what lessons can be learned as to how Irish business can crack the US market with indigenous Irish products.
Other themes that are explored will include the differences in attitude to doing business in American compared to Ireland, and especially the attitude to entrepreneurial failure, where in the US its considered a badge of honour to fail on the way to eventual success, but in Ireland its often seen as the end of the road.
Programme Six: The Future of Irish Tourism
Our tourist numbers have dropped dramatically so what can we do?
Tourism has the potential to have a positive economic impact in every part of the country and tonight George Lee explores the future of our Céad Míle Fáilte. He heads off on his own holidays in search of what Bill Clinton recently called 'the core of Ireland.'
From Paddy Wagons to Zombie Hotels, Adopting a Sheep to Cork's very own Alcatraz, George discovers the new face of tourism in Ireland and what might just save us.