The Brendan Voyage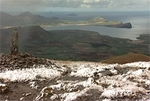 St Brendan is one of the most famous Irish saints and scholars, who kept alive the flame of Christian civilisation during the Dark Ages. Founder of the 6th century monasteries of Ardfert in Kerry and Clonfert in Galway, he is much better known as 'The Navigator', having, according to legend, sailed across the Atlantic Ocean in his bid to take the Gospel to the ends of the earth.
In 1976, the English explorer, Tim Severin, decided to put that legend to the test, by replicating Brendan's mythical voyage. He built a boat out of wood and oxhides, sealed with animal fat, and set out across the Atlantic, sent on his way by none other than the then Bishop of Kerry, Eamon Casey.
Tim Severin's 1978 film The Brendan Voyage, which documented his team's remarkable feat, was an RTÉ broadcasting landmark, shown all over the world. Their tiny boat faced tempestuous seas and at one stage was holed below the waterline by an iceberg, forcing the crew to brave the icy waters to sew on a patch. On their arrival in Newfoundland, they were met as much with incredulity as acclaim.
Tim Severin's film inspired the Irish composer Shaun Davey to write his internationally acclaimed Brendan Suite, which has now been incorporated into the restored film for the first time. The original film print was in very poor condition, and so, realising its national importance, RTÉ Libraries and Archives have carefully restored and re-mastered it on HD from the negative, in time for this special showing on St Brendan's Day.
Straight after The Brendan Voyage, RTÉ will be broadcasting Mass live from the quayside in Brandon Creek, on the Dingle Peninsula of Co. Kerry, from where Tim Severin - and supposedly St. Brendan - departed.
The Mass will include a live Blessing of the Boats in Brandon Bay, where "The Navigator" is still remembered by locals. The set-up film will also show how, to this day, pilgrims continue to maintain another tradition of St. Brendan by following The Stations of the Cross on nearby Mount Brandon, where Brendan fasted and prayed before his voyage.
This year, the Feast of St. Brendan coincides with Ascension Day, so the combination of mountains and sea is not only spectacular but poignant.
The Feast of the Ascension celebrates Jesus' words to his disciples to go out to the whole world to proclaim the Good News. St. Brendan's Day recalls the enthusiasm with which Brendan and his monks took this message beyond the shores of Ireland in the early days of Christianity. He is patron saint of boatmen, mariners, sailors, travellers and whales.
The main celebrant for our mass is the Parish Priest of Ballyferriter Fr Eoghan O'Cadhla, concelebrating with Fr Tomás Ó hiceadha, AP.
Liturgical Music comes from Cór Iar-Dhuibhneach, with contributions from Scoil Naomh Eirc and Scoil Mhaolchéadair. The Director of Music is Pádraigh O'Gairbhia.