The Boys of St Columb's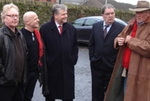 The story of the school which educated the first generation of Catholic students in Northern Ireland, producing many who went on to became important figures in recent history.
In 1947, a British Act of Parliament granted free secondary education to Northern Irish children for the first time. This film tells the story of eight schoolboys from this first generation who were born into social division and low expectation. This new era of education changed their country forever and led them to become some of the most important figures in Irish culture in recent history. St. Columb's is the only school in the world that can count two Nobel laureates as past students.
The film was produced by Maccana Teoranta and Westpark Pictures and was directed by Tom Collins. Participants of the documentary include Seamus Heaney, Seamus Deane, Phil Coulter and Paul Brady.
As Europe was going to war and Ireland was hemmed in by its neutrality a generation was born in Derry. It was to become the first generation of educated Catholics in the chequered history of the Northern Irish state. Born into poverty and a gerrymandered voting system that practically divested their community of property ownership, the boys who went to St. Columb's received a church Latin education under a British school educational system. The Irish language, too, was permitted. It was in this space of ecclesiastic thinking, Celtic spirituality and imperialism that the first group of educated Catholics found themselves.
They were to become hugely influential, both in Ireland and abroad. Their voices have become synonymous with success in their chosen fields of music, politics, diplomacy and literature.
Set against the backdrop of today's vacillating political situation, the stories of these boys - men looking back on their boyhoods - will reconstruct the schooldays they had. It will focus entirely on that same milieu they grew out of rather than their successes in adult life. It will, however, highlight the hunger that their pauperised background imbued them with to actualise their potential.
In a case such as that of Seamus Heaney and Paul Brady, there is the voice of outsiders who came to St. Columb's as boarders from the hinterland of County Derry and County Tyrone. They play an essential role in the narrative of the school which was - and is all the more today - predominantly a day school. Excerpts from Seamus Heaney's first book of prose, Preoccupations, in particular his essay, 'From Mossbawn to Belfast', read by the author, epitomise the situation of an outsider going to school in the city.
John Hume, Seamus Deane, Phil Coulter, James Sharkey and Eamon McCann are the voices of the ghetto, as it was then: the Bogside. They grabbed an education as it was the only way to lift themselves and, by extension, their community out of the mire of a deeply corrupt political system. The boys were, several of them, the best of friends. In a way that they did not realise then, they were also allies because of the conditions they were living under. Together they treaded the dangerous lines of official policing and governance that diverted the ends of power to deeper oppression.
"So it was the first generation coming through. And my parents actually recognised that a cohort of Catholic kids going to school was what was going to break the Northern Irish state" - Seamus Deane.