All Ireland Talent Show Backstage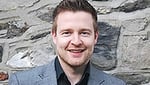 Aidan Power and Dustin take us behind the scenes with The All Ireland Talent Show Backstage. Each week they capture all the live action and gossip from backstage at Ardmore Studios, featuring post-show analysis with the five judges, interviews with celebrity fans and special guests.
Offering an exclusive look at the contestants' day, expect rehearsals and rivalries, dressing rooms and dramas and some all-important last minute fine tuning. Contestants give their reactions to the performances and judges' comments in the final nerve wracking moments before the Results Show.