Taxi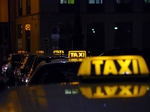 Seven Days. Three Cities. Five Taxis.
Every day people across Ireland make a journey in one of the thousands of taxis on the road. As Budget 2014 looms Taxi goes into five such cars for seven days in three different cities - Dublin, Cork and Limerick. The film documents the passenger's thoughts and views on the upcoming budget, while also providing a snapshot of their lives and the things that really matter to them. Taxi is real-life people and real life stories behind the issues trending in the country in one week in October 2013.
This unique observational documentary will see drivers and passengers comment freely as they travel to their destination. Passengers are the commuter; the cancer patient; the Church-goer; the businesswoman dropping her child to crèche; the job interviewee; the wedding attendees; the person leaving Ireland to work abroad.
Production and transmission within a quick turnaround period ensures an up-to-the-minute state of the nation told by real people - no experts, no surveys, no stats - just people, their lives, their stories, their opinions. Drivers will probe and tease out conversation. They are the interviewers and the passengers their interviewees. Their conversations provide a cab-shaped time capsule of seven days of Irish life. Their conversations are warm, big-hearted, outspoken, provocative, funny, angry, sad, revealing, resigned .. Taxi offers an honest and personalised version of events in Ireland, October 2013 as the Budget nears.
The taxi drivers participating are Jack Martin Dublin, John Roche Cork, Olalekan Oladeru ('Ola') Dublin, Noel Casey Limerick and Paul Newsome Dublin.
Taxi is a fixed rig production with three small cameras and discrete microphones mounted in each car. Passengers are not inhibited by the presence of crew and equipment and are encouraged to talk naturally and freely, presenting as authentic a voice as possible.
Taxi is produced by Independent Pictures for RTÉ ONE.