Swipe TV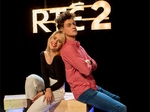 Swipe TV - RTÉ's flagship television series for 7 - 12 year olds - is on weekdays at 5pm on RTÉ2. But this time it's not just happening on TV screens. This autumn Swipe TV gives you the power with a brand-new, interactive, free App so you can now stay connected to Swipe TV 24/7 wherever you are! The Swipe TV App places the control in your hands, allowing you to like, vote and comment - and whatever it is you do like, well we'll bring more of that to your screens.
The Swipe TV App promises the best content ever: we have Spooky Stakeout, your specially-commissioned interactive drama; Pop Up Popstar, where kids get to make their own pop music videos; The Billy Skid Show, in which competitors go head-to-head with Billy in an attempt to win glorious prizes; plus you can vote in exciting polls, scroll through photo galleries, win prizes in our fantastic competitions, check out great new animation and watch more comedy sketches than ever before.
In short, we've created a digital online space that is 100% fun and safe for kids to enjoy - with no ads and no in-app purchases whatsoever!
Monday, Wednesday and Friday at 4.30pm on RTÉ2