Super Garden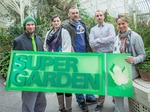 SUPER GARDEN returns for a brand new series in which five up and coming garden designers compete to showcase their garden at this year's 2014 Bloom Festival. This year's series is produced with the support of our sponsors Woodies DIY and Cuprinol.
The series returns with our new mentor Leonie Cornelius, one of Ireland's leading garden designers. Leonie was the Super Garden winner in 2012 and her garden went on to win Gold, Silver Gilt and Best in Category at Bloom. Leonie is best placed to be on hand to offer our start-up designers advice and guidance throughout the series as they create their Super Gardens.
We follow each designer from the initial concept and design stage, to pitching their idea to the Super Garden Judges, through the reality of the construction process and then the completion of their Super Garden. With just weeks to design and build a show garden, and a budget of just €5,000, the challenges that will face these promising designers unfold throughout the series.
After only five short weeks work stops in the garden, and the SUPER GARDEN judging panel arrives to visit and adjudicate each garden. This year's panel comprises its chairman, Gary Graham, (Manager of Bloom), Paddy Gleeson (Horticultural Consultant with Woodies DIY) and, introducing Roisin Lafferty, (Institute of Design in Ireland winner 2013, and Colour and Design Consultant with Cuprinol).
The winner of SUPER GARDEN will be revealed in the sixth and final episode of the series, when all the designers and judges gather at the stunning location of Powerscourt House in Wicklow. The prize will be awarded to the designer voted SUPER GARDEN designer 2014, and with it the life-changing opportunity to re-create their design at the prestigious Bloom 2014 and the possibility of pursuing a career in professional garden design.
Each garden designer works on a garden and to a brief given to them by the residents. Mindful of their budget, the designer must design a garden to the homeowners' specifications. All five have been given similar size gardens to work with, but each has a very different brief, and certainly very different design approaches.
A garden of colour - Fashion Designer Emma Jane, is taking on the challenge, by designing her first ever garden for an engaged couple in Dublin.
Creating a garden showcasing purely native Irish plants, Cavan man Padraig, wants to show the best of Irish horticulture using guaranteed Irish plants in a woodland paradise.
Bride to be Shirley creates a garden calling on all her skills to create a bio diversity haven in a garden in the centre of urban Limerick.
A solid garden framed in stone, Thomas wants to create an edible paradise for these fifth generation homeowners in Cork.
A Zen garden with a twist, Waterford food producer Cian, wants to give a garden in the city a new lease of life.
RTÉ One, Thursday, 8:30pm