Super Garden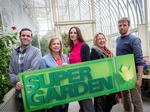 SUPER GARDEN returns for a brand new series, featuring five up and coming garden designers who are competing to showcase their garden design talent at this year's 2015 Bloom Festival.
Each garden designer works on a garden and to the homeowner's brief. Mindful of their budget, the designer must design a garden with the homeowners' in mind and to a level befitting the Bloom Festival. All five designers have different location and homeowner challenges to over come on their road to Bloom.
The series follows each designer from the initial concept and design stage, through the reality of the construction process and then the completion of their Super Garden. With just five weeks to design and build a show garden, and a budget of just ?5000, the challenges that will face these promising designers unfold throughout the series.
This year the series has a new face. Kevin Williams (representing Woodie's) will be mentoring the five designers on aspects of their designs requiring construction and hard landscaping advice.
The series is produced with the support of sponsors; Woodie's and Cuprinol.