Super Garden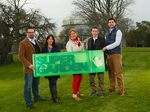 SUPER GARDEN returns for a brand new series where five emerging garden designers compete to showcase their show garden at this year's 2013 Bloom Festival. With this year's gardens based in Dublin, Galway, Limerick, Kildare and Monaghan, the pressure is on as our designers attempt to bring their concepts to life in just 4 weeks, hopefully leaving the homeowners with eye catching show gardens. But who's garden will prove victorious and win Supergarden 2013?

This year each designer will be assigned their own mentor, who will be on hand to offer advice and guidance as they plot their designs. Each mentor comes with a catalogue of impressive private gardens and is no stranger to Bloom, having won gold in previous festivals. They will work hard to ensure our designers are creating gardens with wow factor.

We follow each designer from their initial concept and design, through the reality of the construction process to the completion of their Super Garden. With just weeks to design and build a show garden, and a budget of just €5,000, it proves quite a challenge for these budding designers.

After only 4 short weeks work must stop in the garden, and the SUPER GARDEN judges arrives. This year's judges include Gary Graham (Project Manager of Bloom) and Paddy Gleeson (Horticultural Consultant with Woodies DIY). Each garden will be marked on Originality, Impact, Planting and Quality of Finish.

The winner of SUPER GARDEN will be announced on the sixth and final episode of the series, when all the designers and judges and mentors meet in the more convivial atmosphere of Powerscourt House & Gardens. The prize will be awarded to the contestant voted SUPER GARDEN designer 2013, and with it the life-changing opportunity to re-create their design at the prestigious Bloom 2013 and take a big step forward into the world of professional garden design. Each garden designer is working on a real garden - they are given a specific brief and budget and must design a garden to the home owners' specifications. All 5 have been given similar size gardens to work with, but each with a very different brief:

A Fire Garden (Dublin) - the owners of this property want a space which is both relaxing, exciting and child friendly, but designer Oisin Griffin has plans for a fire theme that will impress, adorned with bold steel structures.
A Beach Garden (Galway) - the owners want to rescue their chaotic corner site garden and turn it into a pleasant and welcoming space in time for their wedding later this year, so designer Nathan Nokes wants to create a Home by the Sea theme.
A Romantic Senses Garden (Limerick) - The couple who own this house are looking for a garden that's low maintenance, contemporary and classical, so designer Lisa McKnight plans to impress with an architecturally impressive combination of garden rooms, complete with romantic planting and furnishings.
A Farm to Fork Dining Room Garden (Kildare) - This young couple wants a garden that will entice them into it with areas to grow vegetables and fruit. Designer Amelia Raben wants to create 2 rooms, a kitchen (for vegetables) and an outdoor Mediterranean dining room.
A Contemporary Chinese Garden (Monaghan) - The client wants a 'Low' maintenance garden that she can impress her friends and family with, so designer Declan McKenna plans to build a Chinese themed space complete with rivers, tea house and moon gate.

RTÉ One, Thursday, 8:30pm