Super Garden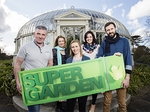 SUPER GARDEN returns for a brand new series, featuring five up and coming garden designers who are competing to showcase their garden design talent at this year's 2016 Bloom Festival.
Each garden designer works on a garden and to the homeowner's brief. Mindful of their budget, the designer must design a garden with the homeowners' in mind and to a level befitting the Bloom Festival. All five designers have different location and homeowner challenges to over come on their road to Bloom.
The series follows each designer from the initial concept and design stage, through the reality of the construction process and then the completion of their Super Garden. With just five weeks to design and build a show garden, and a budget of just €5000, the challenges that will face these promising designers unfold throughout the series.
This year the series has a new face and a new role. Previous Super Garden winner, Bloom Gold Medalist and Series Mentor for two years, Leonie Cornelius is taking up the position of Woodie's Garden Design Ambassador.
'This year as Judge I would love to find a garden that takes a bit of a risk in terms of design. I'm interested in seeing a garden that has a strong and unique concept and is then carried out to a high standard. I feel the he winning garden has to be one that takes its brief from the homeowners and the site and delivers for them but also uses that brief to create something totally new, exciting and show garden worthy. No easy task!' - Leonie Cornelius
Leonie's departure as Series Mentor has created a vacancy for a new Series Mentor and we are delighted to announce, Lecturer and Garden Designer, Monica Alvarez is the new Series Mentor.
The series is sponsored by Woodie's and Cuprinol.
The Series will visit, Westport, Mullingar, Tyrellstown, Rush and Glasnevin.