The Summer Night Classical Concert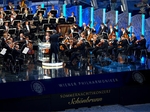 Since 2004 the Vienna Philharmonic Orchestra has performed the Summer Night Concert in the unique ambience of the Schönbrunn Palace Gardens in Vienna.
In the past years the concert has been conducted by Bobby McFerrin (2004), Zubin Mehta (2005), Plácido Domingo (2006), Valery Gergiev (2007 & 2011), Georges Prêtre (2008), Daniel Barenboim (2009) and Franz Welser-Möst (2010).
This year's Summer Night Concert Schönbrunn will be conducted by Gustavo Dudamel, under the theme "Dances & Waves".
Featuring:
Peter Ilyich Tchaikovsky
Polonaise aus "Eugen Onegin", op. 24
Polonaise from the Opera "Eugene Onegin", op. 24
Modest Mussorgsky
Tanz der persischen Sklavinnen aus "Chowanschtschina"
Dance of the Persian Slaves from the Opera "Khovanshchina"
Alexander Borodin
Polowetzer Tänze aus "Prinz Igor"
Polovetsian Dances from the Opera "Prince Igor"
Claude Debussy
La Mer
No English translation available
Richard Strauss
Salomes Tanz, op. 54
Salome's Dance from the Opera "Salome", op. 54
Amilcare Ponchielli
Stundentanz aus "La Gioconda"
Dance of the Hours from the Opera "La Gioconda"
Johann Strauss
Wiener Blut, Walzer, op. 354
Wiener Blut, Waltz, op. 354
Gerónimo Giménez
Intermezzo aus "La Boda de Luis Alonso"
Intermezzo from the Zarzuela "La Boda de Luis Alonso"
RTÉ One, Saturday 23 June 2012, 1.25pm