Stand and Deliver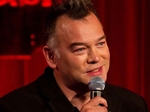 Presented by 'the godfather of Irish comedy' Barry Murphy, in his inimitable style, Stand & Deliver features comedy global stars such as Stewart Lee, Reginald D Hunter and Sarah Millican as they come to play the comedy Mecca that is the Róisín Dubh, in the heart of Galway.
These comedy legends are joined by Irish acts who have made it big on the international comedy circuit. These include Jason Byrne, Colin Murphy and Andrew Maxwell. Each week they are joined by one of the 'young guns' of Irish Comedy who have the chance to shine on the same stage as some of the best names in the business.
The west of Ireland becomes the 'wild west' as the masters of anarchy, chaos and humour strut their stuff to 'Stand & Deliver' their extraordinary comedy.
Episodes
Programme 1
Episode one features Eleanor Tiernan, Steve Hughes and Stewart Lee.
Programme 2
Episode two features the comedy of John Colleary, Milton Jones and Reginald D Hunter.
Programme 3
Episode three features John Lynn, Josie Long and Jason Byrne.
Programme 4
Episode four features Karl Spain, Mike Wilmot and Sarah Millican.
Programme 5
Episode five features Gearóid Farrelly, Colin Murphy and Glen Wool.
Programme 6
The sixth and final episode features Jarlath Regan, Carl Barron and Andrew Maxwell.