Soupy Norman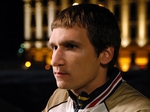 Soupy Norman is a Polish soap opera that has fallen victim to some of Ireland's best comedy talents, including Barry Murphy, Tara Flynn, Mario Rosenstock and Mark Doherty.
The eight part mini-series was written and created by Barry Murphy and Mark Doherty and while the pictures tell the tale of a Polish girl who goes to college leaving her father and grandfather at home, the new voice sync follows the exploits of a dysfunctional Cork family and their daughter's difficulties in adapting to Dublin life.
Soupy Norman assaults the notion of age old Irish traditions and tells the story of an Ireland where heroes and champions are never more than a stones throw away.
Programmes
Episode One: Soupy Norman saves the day
Episode Two: Watchout Soupy is about
Episode Three: Soupy to the rescue
Episode Four: Dr. Soupy's Prognosis
Episode Five: Soupy wins a car
Episode Six: Return of Soupy
Episode Seven: Soupy Returns
Episode Eight: Who was Soupy Norman
New Cork based drama inspired by The Playboy of the Western World and Winning Streak contestants.