Somebody To Love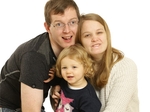 As Valentine's Day approaches, a new documentary asks us to think about a group of people in Irish society who are often overlooked when it comes to the subject of love, sex and relationships.
Sexuality is an integral part of life and is recognised as a basic human need. Yet, for people with a disability, it is often disregarded. In fact our culture, society and even sometimes our judicial system, impose limitations upon the romantic lives of the disabled.
Sexuality is not only about attraction or about the act of sex itself. Its about self esteem, gender and body awareness, as well as the formation of relationships. It is, for many, the search for that which makes life ultimately worthwhile: human connection.
Largely observational in style and relying on first hand experiences Somebody To Love provides a diverse range of stories from all around Ireland from individuals or couples with different disabilities, both physical and intellectual.
The programme is opened by the charming Kieran Coppinger (33), an actor with Down's syndrome from Blue Teapot Theatre Company in Galway. Together with his leading lady Charlene Kelly (29), who also has an intellectual disability, they are putting on a play, challenging a little known law which governs the sex lives of the intellectually disabled.
In Dublin, Mandy Finlay [40] has Down's Syndrome and lives in the St John of Gods Service. Mandy has always had a boyfriend in her life and her mother, Frieda Finlay, has been campaigning on capacity and decision making laws for over 20 years. She believes in Mandy's right to romance.
A lack of clarity in the legislation is sometimes used to control sexuality and the relationship rights of people with intellectual disabilities.
Ciara Staunton [27], from Wicklow, had an accident in her early twenties. It took her some time to regain her self-esteem and sense of sexuality, but she is actively back in the dating world. She describes the experience of self-rediscovery as a second puberty.
Her friend Deirdre Mongan [35], from Newcastle, Co. Down, is also a wheelchair user and will shortly marry Steve Donnan. The wedding preparations are underway, but how will how will the dress work in a wheelchair ?
Sarah and John Paul Fitzgerald are both in their 30s. They're from Tullamore, County Offaly and have been together for 14 years. Both of them work, enjoy independent lives and have Cerebral Palsy. Recently married, they also have a young child. They don't see themselves as any different from any other Irish family, but how do people treat them?
In this documentary, we learn about the practical and emotional obstacles faced by our cast of contributors and watch as they live, play, celebrate, and love :- taking journeys to create change in both their own lives, and the society around them.
The filmmakers - Anna Rodgers and Zlata Filipovic - capture an insider view of what is often a hidden world. 'Somebody To Love' cuts to the core of inclusion, and taps into something truly universal for wider consideration.
Are we really so different or is there something fundamentally human which binds us all together?

Information
Organisations supporting social, relational and sexual rights/opportunities for people with disabilities
Connect People Network [CPN] is a charity which helps 'people with extra support needs' to have social opportunities, relationships, sex education, and sexual health services. There are 5 project groups within CPN: a social group, information group, advocacy group, LGBTQ group, and a drama group. Each group meets independently and is led by people with extra support needs and their supporters.
The CPN have a resource database which provides an extensive list of resources in the area of sexuality and disability, including resources written in accessible formats. Some of these resources are available free online. www.connectpeoplenetwork.com
Greenbow is an organisation run for the benefit of all deaf Lesbian, Gay, Bisexual and Transgender [LGBT] adults all over Ireland. Their website provides news on LGBT current affairs, Irish Sign Language [ISL], and events such as Gay Pride, Christmas, Halloween and monthly social nights etc. It also gives details of educational workshops and other services.www.greenbowdeaf.com
Advocacy organisations
Inclusion Ireland is a national voluntary organisation working to promote the rights of people with an intellectual disability in Ireland. Inclusion Ireland campaigns for changes in services and legislation that will improve the quality of life and participation of people with an intellectual disability in Irish Society. Inclusion Ireland promotes advocacy for people with an intellectual disability, particularly self-advocacy and provides an information and advice service. Inclusion Ireland has produced a number of factsheets in the area of sexuality, marriage and capacity. www.inclusionireland.ie
The National Advocacy Service (NAS) was set up to provide independent, representative advocacy services for people with disabilities. It is organised and managed on a regional basis by the boards of five Citizens Information Services and is supported by the Citizens Information Board. People with disabilities may get in touch with the advocacy service directly. Enquiries from family, friends or services on behalf of people who may be unable to make a request for support from the NAS are also welcomed. The National Advocacy Service for People with Disabilities can be contacted on the new national number which is
0761 07 3000.
Organisations providing sex education, training and sexual services
RUA, within The Callan Institute, as part of St John of God Community Services, aims to support staff and carers to enable people with intellectual disability to understand sexuality and develop friendships and relationships in their lives. Their mission is 'To support individuals with intellectual disability to enjoy friendships and close relationships and, where appropriate, to support their families and staff teams to be comfortable and skilled in talking about issues relating to friendships, relationships, sexuality and intimacy.' RUA offers a number of workshops and training programmes on Friendships, Relationships and Sexuality in Intellectual Disability. These are designed for professionals and also for family members. RUA can also tailor courses for an organisation's specific needs and deliver them on-site. www.ruasjog.ie
The Irish Family Planning Association [IFPA] works with partner organisations and civil society to raise awareness of the importance of sexual and reproductive health at home and all over the world. The IFPA's mission is to enable people to make informed choices about their sexual and reproductive health and to understand their rights. The IFPA provides medical services from its clinics in Dublin City centre and Tallaght, as well as crisis pregnancy and counselling services at eleven centres nationwide. The IFPA provides education and training on reproductive health issues to a variety of groups including service providers, young people, parents and community groups. The IFPA provide sexual health education to people with disabilities. www.ifpa.ie

The Sexual Health Centre, Cork, is involved in sexual health promotion, peer education, unplanned pregnancy services and HIV support services. It is very active about promoting sex education and sexual health services for people with disabilities. The health promotion team at the Sexual Health Centre delivers skills based workshops to schools, youth and community groups, parents and professionals in the Cork and Kerry area. The peer education team provides training and support to young people so that they can acquire knowledge on sexual health and drugs and, in turn, pass that information on appropriately to their peers in informal and formal settings. The unplanned pregnancy counsellors provide a non-judgemental, professional and non-directive service to women experiencing an unplanned pregnancy. The HIV support service is a service for clients who are HIV positive and for their significant others. It is also for those who have concerns or require information about HIV and/or other Sexually Transmitted Infections [STIs]. All Sexual Health Centre services are free. www.sexualhealthcentre.com
Sexual Health Resource Library, Health Service Executive South: The sexual health resource library is a collection of sexual health resources sourced by the Health Promotion Team of the HSE South and part funded by the HSE Crisis Pregnancy Programme. It is a free loan service and can be accessed by those who have attended the HSE South Foundation Programme in Sexual Health Promotion or other appropriate training. The library contains resources for use by the general population and specific resources for use by people with learning disabilities. It provides organisations with opportunities to view and try out resources, or simply to expand their sexual health programmes. The library is available from all 10 Health Promotion offices across the HSE South. A brochure detailing the content of the library is available from the Sexual Health team. For more information, contact:
South East : Moira Germaine, Senior Health Promotion Officer.
Tel: 059 914 3630
Cork : Sharon Parkinson, Senior Health Promotion Officer.
Tel: 021 492 1641
Kerry : Maire O'Leary, Health Promotion Officer.
Tel: 064 667 0773

RTÉ One, Monday 17th February, 9.35pm