Small World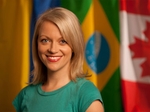 Bringing four exciting new faces to the Irish screen for the very first time, Small World is a new travel documentary series that tells international stories with an Irish twist. The films, created by some of Ireland's most acclaimed directors, unearths fascinating people and places that have unlikely and unmistakable links to Ireland.
Episodes
Episode One
In the first programme of the series, presenter Kathriona Deveraux will take a look at the immigrant story that doesn't often get told - what happens when you go back.
Kathriona travels to Brazil to meet the people who turned the small town of Gort in the west of Ireland into a 'Little Brazil' during the Celtic Tiger boom.
Now many of those Brazilian immigrants have returned to their hometown turning it into a 'Little Ireland' in the middle of Brazil. They have used Irish money to open businesses, buy farms and build houses and new lives.
Kathriona meets Lucimeire Trindade who is returning to live with her three children. She was one of the original pathfinders to move to Gort but has three children aged six to 15 living in Brazil with their grandmother. She is eager to move back but sad at the prospect of leaving behind the life she's built in Ireland.
Kathriona also meets with Leonardo Gomes - a young teen torn halfway between Ireland and Brazil. At the age of 11, he was playing U-14 hurling in Gort and offered hope of sporting salvation to the local GAA club - a star destined for the Galway team. However after eoght years of living in Ireland his parents had earned and saved enough to move back to Brazil, where Leonardo is now struggling to settle.
Episode Two
In tonight's episode presenter Ciaran Murphy travels to Dubai to follow the Irishmen who dominate the Middle Eastern horse racing industry in the lead up to the world's most expensive race - the Dubai World Cup.
Episode Three
In tonight's programme presenter Liam Nolan travels to Fogo Island in Newfoundland to discover the strong Irish heritage of this remote island. There he gets to know families like the McGraths, O'Dwyers and Foleys who have fished off this island for centuries in the most Irish place in the world, outside of Ireland.
Episode Four
In the final programme of the series, presenter Anne-Marie McNerney travels to a huge Irish Dancing Feis in Odessa, where she discovers 10-year-old Nikita (a now-famous finalist in Ukraine's Got Talent) who aspires to be the Michael Flatley of the East.