Deirfiúracha na hEolaíochta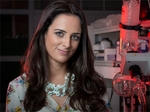 Deirfiúracha na hEolaíochta
(Sisters of Science)
In this new four part Irish language series produced for RTÉ One by DoubleBand Films, presenter Róisín Ní Thomáin explores the stories of four pioneering Irish women who helped shape the world of science
All around us science and technology is changing our world. It shapes how we live, how we travel and how we work.
Today, Irish people can be found at the cutting edge of science - making new discoveries, devising new treatments, developing new technologies. But Ireland has a long history of scientific achievement and women have been central to that extraordinary heritage.
In this new series for RTÉ One, presenter Róisín Ní Thomáin embarks on a journey to trace the stories of four remarkable Irish women, who helped shape the world of science. The stories of these pioneers and their groundbreaking work is inspirational, but for all their world class achievements - these Irish women remain largely unknown and uncelebrated.
In the series Róisín explores and reveals the stories of:
Monday July 7th - Dorothy Stopford-Price, the woman who pioneered the introduction of the BCG vaccine and spearheaded Ireland's fight against TB
Monday July 14th - Lilian Bland, the Ulster-born early aviator, who was the first woman in the world to design, build and fly her own plane
Monday July 21st - Kathleen Lonsdale, who was born in Kildare and whose cutting-edge work in X-Ray crystallography made her one of the most important chemists of the 20th Century
Monday July 28th - Professor Jocelyn Bell Burnell, from Co. Armagh, who is a world renowned astrophysicist, and who made her name in the late 1960s with her discovery of pulsars
In each programme, with the help of scientific experts and relatives, Róisín traces the backround of each woman, examines how they developed their interest in science, and explores the discovery or achievement that shaped their careers and lives.
She'll consider the impact their work had on their respective fields at the time, and the legacy of their achievements in paving the way for further development in specialist areas such as childhood medicine, aviation, chemistry and astrophysics.
Róisín will also explore how each woman strived to make their mark in the male-dominated world of science, as she tells the stories of Dorothy Stopford-Price, Lilian Bland, and Kathleen Lonsdale, and explores if it has become easier for women to pursue scientific careers as she talks to Professor Jocelyn Bell Burnell.
Deirfiúracha na hEolaíochta was produced for RTÉ with the financial assistance of the Broadcasting Authority of Ireland's Sound and Vision scheme, and made by DoubleBand Films. The series was produced by Clare McParland and directed by Cathal Ó Cuaig.
Róisín Ní Thomáin has presented An Jig Gig for TG4, worked as a reporter on RTÉ's The Daily Show and co-hosted the BT Young Scientist Exhibition.
Presenter - Róisín Ní Thomáin:
"Ireland has a remarkable scientific heritage, and women have been pioneers in areas as diverse as medicine, aviation and astrophysics. Presenting this series has been a wonderful experience in uncovering the forgotten stories of incredible women like Dorothy Stopford-Price and Lillian Bland, and through following that story into the present day by meeting Professor Jocelyn Bell Burnell."
Director - Cathal Ó Cuaig:
"Deirfiúracha na hEolaíochta shines a light on Ireland's contribution to the world of science, and traces the stories of women who were true pioneers. I hope the series will encourage a new generation of young Irish female scientists to take pride in the remarkable achievements of their predecessors as they make their own mark in the world of science. These women strived make their individual contribution to science, at a time when society was reluctant to accept them."