Silence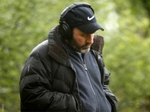 The cuckoo calls from the well of my mind,
more echo than thought, as it fades through the wind
and flickers away to the silence beyond
like the voice, in myself, of another.
Insomnia in Southern Illinois by John Burnside
Eoghan is a sound recordist who is returning to Ireland for the first time in 15 years. His
reason for returning is a job offer: to find and record places free from man-made sound. His
quest takes him away from towns and villages into remote terrain. Throughout his journey, he is drawn into a series of encounters and conversations which gradually divert his attention towards a more intangible silence, one that is bound up with the sounds of the life he had left behind. Influenced by elements of folklore and archive, Silence unfolds with a quiet intensity, where poetic images reveal an absorbing meditation on themes relating to sound and silence, history, memory and exile.
About the Production
The Inagh Valley, Connemara, is only miles from Galway city but is a place out of time. On a misty spring morning a small convoy of cars carry the crew of Silence: camera and sound crew in front followed by Pat Collins (writer/director) and Eoghan Mac Giolla Bhríde (writer/actor).
They turn off into a woodland, drive further into the remote landscape then walk another 20
minutes into a deep forest of ancient oak trees and extraordinary mosses of vivid green.
Intuitively and efficiently the crew sets up equipment. There are quiet, gentle discussions
between lead actor, director and director of photography Richard Kendrick about how best to approach shooting an unrehearsed scene. The scene is but one of many, but its mood and methods are characteristic of a film making process quite different from the typical. But then there is almost nothing typical about Silence. In some respects it is a film that is being 'found', rather than made. For while there was a long period of detailed development and there is an outline narrative and strict schedule, the shoot is unusually open and flexible in its approach. Director Pat Collins explains, "We were interested in subjects like memory, exile, a sense of place. Like our central character, our film is evolving as it's going along depending on what we encounter. We're allowing space for things to develop in ways we mightn't have expected."