She's The Business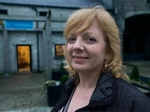 In 2011, the Global Entrepreneurship Monitor, GEM, found that over 2,000 new businesses started up each month in Ireland. By 2013 the majority had ceased trading. Research also found that less than half of those new enterprises were spear-headed by women. This is the story of six months in the careers of four Irish women entrepreneurs juggling recessionary times, family life and the real dilemma of whether they can make a go of working on their own despite and against the odds.
Episodes
The women:
Samantha Kelly appeared on Dragons' Den with her product Funky Goddess. Since then business has been 'touch and go'. She's also a social-media entrepreneur. But will Samantha be able to juggle her various businesses and raise her two children?
Claire Hearty is proprietor of Little Sitters and the Portarlington Art Studio for children. But only a few months into both enterprises, the income from one is subsidising the other.
Carlow-based mother of four, Madeleine Forrest, comes from a family of entrepreneurs with varying levels of success. She has high hopes for a new tea room she's just set up in Duckett's Grove Castle. But now that she's built it, will they come?
Mother of two, Alison Banton, is owner of the Wicklow business, Brook & Shoals. After trying to expand into the Dundrum Shopping Centre just as the recession hit, she's had to face the harsh
RTÉ One, Tuesday, 10.45pm