Shameless USA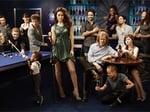 Oscar®-nominated WILLIAM H. MACY and EMMY ROSSUM star in this fiercely engaging and fearlessly twisted dramedy series. Chicagoan Frank Gallagher (Macy) is the proud single dad of six smart, industrious, independent kids, who without him would be. perhaps better off. When Frank's not at the bar spending what little money they have, he's passed out on the floor. But the kids have found ways to grow up in spite of him. They may not be like any family you know, but they make no apologies for being exactly who they are.
Series
Season 3
Season 3, Episode 1 "EL GRAN CANON"
Season three picks up 137 days since we last spent time with the Gallaghers. It's almost Easter. Jimmy (series star JUSTIN CHATWIN) has moved into the house. Frank is missing. And although no one else seems to mind, Debbie's (series star EMMA KENNEY) worried about him. Everything is status quo ? except for the mystery Town Car parked out front.
Fiona (Rossum) struggles to accept the new 'boring' Jimmy, who's become something of a Mr. Mom/househusband. After Fiona loses her job doing biohazard cleanup and looks into her options with a GED (not many), she goes to see her old boss, Meg (guest star DIORA BAIRD) who offers her the chance to promote her own club night - for a price. Fiona accepts and puts the family a thousand dollars in the hole.
Waking up in Juarez, Mexico with no money and no passport after a months-long bender, Frank enlists the help of local coyotes and drug smugglers to get him across the border and back into the U.S. Meanwhile, Estefania's drug cartel father, Nando kidnaps Jimmy, making him promise to take proper care of his daughter (guest star STEPHANIE FANTAUZZI). Lip (series star JEREMY ALLEN WHITE) is sentenced to community service after stealing a college laser for a lucrative robotics contest. Baby Hymie causes Jody (series star ZACH McGOWAN) and Sheila (recurring special guest star JOAN CUSACK) extreme exhaustion. And neighbours Kev and Veronica (series stars STEVE HOWEY and SHANOLA HAMPTON) attempt to boost their web traffic (and bank accounts) by creating costumed 'master and slave' pornography.
Season 3, Episode 3 "May I Trim Your Hedges?"
Frank is supposed to take baby Hymie for his check-up, but when he discovers that dying kids can get Bulls tickets from The Wishing Lane Foundation, he tells Carl (series star ETHAN CUTCOSKY) he has cancer in order to scam the charity.
Fiona seeks a cashier job at the grocery store. When the new manager (guest star ERIC EDELSTEIN) expects a sexual favour in return, Fiona enlists V's help to blackmail him.
Debbie witnesses a guy fondling himself on the train - prompting the family to hunt down other sex offenders in their neighbourhood. They learn a paedophile lives down the street and the boys rally to get rid of him. When the pedophile, Blake, turns out to be a "she," (guest star JUSTINE LUPE) Lip becomes s interested for a very different reason.
Veronica's spent the night on the Gallagher couch. She hates the connection Kev shares with his wife and she's stung by the news that Kyle may be Kev's son. Jimmy and Este attempt to fake out the INS. Mickey (series star NOEL FISHER) beats up Ned (guest star HARRY HAMLIN). Mandy (series star EMMA GREENWELL) teaches Debbie how to take down a pervert. And Carl is offered the trip of his short lifetime to cancer camp.
Season 2
Episode 1: "Summer Time"
In the second season premiere, the Gallaghers are hustling in summertime Chicago. Despite her breakup with Steve, Fiona seems to be doing just fine. She's bartending at a local hotspot with Veronica (series star SHANOLA HAMPTON), hanging out with a successful young exec and enjoying her youth...it is, after all, the only time of year she has to let loose. Jasmine (guest star AMY SMART) introduces her sugar daddy, David, to Fiona.
Meanwhile, at the Gallagher House, Debbie is running a daycare with Carl (series star ETHAN CUTKOSKY). Ian takes over at the "Kash and Grab" when Kash (guest star PEJ VAHDAT) leaves town. Lip is running a Little League book and helping Kev (series star STEVE HOWEY) out with their annual ice cream/pot truck. However, Kev may be in over his head when his crop overflows thanks to Ethel's green thumb.
Despite Eddie's disappearance, Sheila (guest star JOAN CUSACK) is taking small steps to finally leave the house. Frank loses a bet and surrenders Liam as collateral to a very angry man named 'Baby' (guest star MARCUS BROWN).

Episode 2: "Summer Loving"
As Sheila continues to make progress conquering her agoraphobia, a worried Frank needs a new plan. Frank turns his attention to fellow bar patron Dottie 'Butterface' Coronis (guest star MOLLY PRICE). Lucky for Frank, Dottie's rapidly declining health and city pension just might make Dottie his perfect match.
Fiona continues to juggle her job, the kids and her burgeoning love life -- now that Steve has gone. Jasmine (guest star AMY SMART) tries to help by setting up Fiona with a sugar daddy of her own, Richard (guest star JOHNNY SNEED).
Veronica takes some old folks from the home for an excursion day. Lip worries about Karen's growing relationship with Jody (guest star ZACH McGOWAN). Ian tries to land a recently released Mickey (guest star NOEL FISHER) a job at the "Kash and Grab." Debbie wants her own room. Carl moves into the van.
Episode 3: "I'll Light a Candle for You Every Day"
Fiona hopes her moral compass isn't leading her astray when she reconnects with Craig Heisner (guest star TAYLOR KINNEY), her married high school crush. But when she finds an abandoned purse with over five hundred dollars inside, she assumes her luck is finally changing. Meanwhile, Frank is willing to do just about anything to stay in Dottie's good graces...even marry her. And in light of Harry's demise, Debbie becomes obsessed with death. Kevin is thinking about buying The Alibi. Lip meets with a Colonel (guest star PETER MURNIK) to glean information for Ian about West Point. Jody asks Frank for Karen's hand in marriage.
Episode 4: "A Beautiful Mess"
Fiona deals with the consequences of sleeping with Craig Heisner when his angry wife, Lucy Jo (guest star BRIT MORGAN), shows up at the door.
When Debbie develops a stress-rash, Fiona wonders if she's putting too much responsibility on the kids. Fiona encourages Debbie to invite her friends over for a sleepover party at the house.
Now that Sheila has made it all the way to the hair salon, Frank realizes his days in the Jackson household are numbered and plots to scare Sheila back inside.
Now that Karen and Lip are no longer having sex, Lip tries to dig up dirt on Jody. Ian continues on the path to West Point. Carl housesits with his friend, Little Hank (guest star NICKY KORBA). Ethel (guest star MADISON DAVENPORT) meets Malik (guest star JUSTIN MITCHELL), a boy on Kev's youth-basketball team.
Episode 5: "Father's Day"
Now that Eddie Jackson's body has been recovered, Frank's on a mission to claim Eddie's pension or insurance benefits. But wait, wasn't Frank last seen running from a murderous Eddie? Frank's now a prime suspect in his disappearance.
Fiona's sugar daddy, Richard, takes her to a high-profile wedding. Not wanting to surrender her fantasy life, Fiona lies about where she's from; and although Richard falls for it, the other wedding guests don't.
Lip is devastated when he learns that Karen and Jody got married. He steps up to be a father to Karen's baby, but Karen tells him to back off... for good. Carl rents Frank's room to a hooker. Debbie wants to be attractive for Little Hank. Veronica thinks that Kev is cheating. And Sheila finally learns what really happened last season between Frank and Karen.
Episode 6: "Can I Have A Mother?"
Debbie's day at day care takes a wild turn with the arrival of Grammy Gallagher, who's been released on a medical furlough. She seeks Frank's help in tracking down her old meth-lab pal who owes her a big debt.
Meanwhile, Steve invites Fiona and Adam on a double date with him and his Brazilian bombshell; and when Frank finds out the beneficiary of Eddie's life-insurance policy, he hits the roof.
Episode 7: "A Bottle of Jean Nate"
As summer comes to an end, Fiona is readying the kids for their return to school. When Jasmine invites Fiona on David's boat for one last summer blowout, she fails to mention that she also invited Steve and Estefania.
To get back in Karen's good graces, Lip helps her forge a pre-nuptial agreement for Jody to sign. But Karen eventually snaps and kicks Jody out. Ian, meanwhile, continues to give Lip the silent treatment, and they soon come to blows.
Meanwhile, Frank is officially Grammy's errand boy. And although he'd do just about anything to kick her out, Fiona likes having her around. That is, until Carl blows up their meth lab in the basement!
Next door, Kev and V get a pet to help them get over the loss of Ethel.
Episode 8: "Parenthood"
While Sheila and Jody tend to a dying Grammy, Frank decides to remove himself from the house. He stops at the "Kash and Grab" and accidentally walks in on Ian and Mickey going at it. A panicked Mickey vows to kill Frank to keep him quiet.
When Lip quits school, Fiona makes a bargain with him: she'll go back and get her diploma if he does. While she starts studying for the GED, Karen and Lip meet with adoption agencies. It soon becomes apparent to Lip, however, that Karen plans to sell their baby to the highest bidder. In response, he starts acting out and...gets expelled.
Meanwhile, Steve steps up to coach Carl's football team.
Episode 9:"Hurricane Monica"
Monica's back -- cooking, partying, and scamming with Frank just like old times. But the kids have to wonder: is she really here to stay? And while everyone is dealing with Grammy's death differently, Frank is eager to pick up Grammy's remains... her remaining cash from Dr. Pitts that he believes is hidden at Sheila's. However, Frank can't seem to find the time to claim his mother's ashes from the city morgue.
Fiona begins to regret her decision to kick Lip out -- especially when Karen wants to charge him rent. Lip searches for a new place to crash, and Steve agrees to take Lip in -- an arrangement Fiona's not happy about it.
Looking into starting her own hospice, Sheila and Jody suspect that Eddie's ghost is haunting the house. Terry Milkovich (guest star DENNIS COCKRUM) accuses Ian of getting Mandy (guest star EMMA GREENWELL) pregnant.

Episode 10:"A Great Cause"
Having Monica around to help out opens Fiona up to a world of possibilities -- as she continues to pursue her GED and pushes for a management position at the club. Steve, meanwhile, learns that Estefania is still in love with her ex-boyfriend Marco (guest star THIERRE DI CASTRO). Conspiring with Lip to sneak Marco back into the country via shipping container, Steve hopes that he and Fiona can finally be together.
Meanwhile, Monica starts to unravel -- fighting with Frank, spending the "squirrel fund" and ending up in jail. As Monica slips back into her depression, however, Fiona finds herself back at square one.
While Ian tries to avoid the wrath of Terry Milkovich. Lip worries Mandy's baby could be his. But when they learn the baby is actually Terry's, Ian organizes an impromptu abortion fundraiser.
Sheila takes in Ruben (guest star MOSHE KASHER), a homeless hospice patient with a tracheotomy hole and a crack addiction. And Veronica tells Kev she can't have kids.

Episode 11:"Just Like The Pilgrims Intended"
While Fiona's planning a nice Thanksgiving, Monica's becoming more depressed than ever. Nobody can get Monica out of bed until Frank finally drags her to his brother Clayton's to help him claim his share of Grammy's money. When Monica fails to seduce Clayton (guest star KRISTOFFER WINTERS), she continues on her alarming downward spiral.
Steve finally stands up to Fiona after Estefania and Marco have a tumultuous reunion. When Marco threatens to kill Steve for sleeping with his girlfriend, Steve agrees to surrender his identity so that Marco can stay in the country married to Estefania. Now, Steve can finally be with Fiona...or so he thinks.
With Debbie worried that depression might be genetic, Frank realizes it may be time for Monica to get back on her meds, so he steals some lithium from Sheila. Things are finally looking up as the family gathers for Thanksgiving dinner... that is, until Monica slits her wrists.
Episode 12:"Fiona Interrupted"
In the irreverent and emotional season finale, Jimmy (Steve) has earned his way back into Fiona's good graces in the aftermath of Monica's suicide attempt. With nothing left to hide, Jimmy finally wants Fiona to meet his family. Meanwhile, a lonely Frank plans to break Monica out of the psychiatric facility.
Meanwhile, Sheila and Jody conspire to harbor Karen's fugitive baby; but when Karen gives her mom an ultimatum, Sheila's forced to decide between her daughter and her grandchild. Lip, however, desperately pushes Karen to do the right thing for her baby, even if it isn't his.
And as Fiona awaits her GED results, Ian runs into Ned (guest star HARRY HAMLIN) again, Debbie tries to help Frank with Monica, and Eddie's long--awaited insurance check arrives...


Cast
William H. Macy - Frank Gallagher
Emmy Rossum - Fiona
Justin Chatwin - Steve
Ethan Cutkosky - Carl
Shanola Hampton - Veronica
Steve Howey - Kevin
Emma Kenney - Debbie
Cameron Monaghan - Ian
Jeremy Allen White - Lip
Laura Slade Wiggins - Karen
Joan Cusack - Sheila
Writers:
John Wells - Developed for Television by
Executive Producers:
Paul Abbott - Executive Producer
John Wells - Executive Producer
Andrew Stearn - Co-Executive Producer
Authors:
Paul Abbott - UK Version

RTÉ Two, Wednesday, 9.55pm