Shameless USA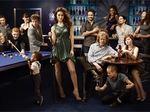 Oscar®-nominated WILLIAM H. MACY and EMMY ROSSUM star in this fiercely engaging and fearlessly twisted dramedy series. Chicagoan Frank Gallagher (Macy) is the proud single dad of six smart, industrious, independent kids, who without him would be. perhaps better off. When Frank's not at the bar spending what little money they have, he's passed out on the floor. But the kids have found ways to grow up in spite of him. They may not be like any family you know, but they make no apologies for being exactly who they are.
Season 7
Karen and Joe continue their affair but when Karen gives birth to a son, Connor Maguire, she begins panic over who his biological father is. The stress of her son's parentage slowly breaks Karen down, she begins to spend all her time obsessively exercising to lose her pregnancy weight. She is eventually diagnosed with Bipolar Disorder, perhaps inherited from her disorder ridden mother Sheila Jackson.
Paddy's son's take him out on the town to try and encourage him to start dating again, but they abandon him when he starts to embarrass them. Feeling hurt he returns home to find Kelly home alone, and make's an indecent proposal.
With Debbie leaving Chatsworth to join the army, Liam, now in middle school, finds himself responsible for looking after the Gallagher household and struggles with the fast changes in his circumstances.
Ian is surprised to find he has feelings for Maxine when he pretends to be her boyfriend at her parent's party. A complicated and stress filled relationship soon blossoms. Frank turns 50 and soon starts a new relationship with librarian Libby Croker.
Carl and Chesney witness a local thug committing murder and soon find themselves taking the blame. Shane proposes to Kelly but she turns him down due to her guilt over the night she spent with his father.
Karen admits her affair to Jamie and tells him she is leaving him. But things take a deadly turn before she and Joe can start their new life together.
Cast
William H. Macy - Frank Gallagher
Emmy Rossum - Fiona
Justin Chatwin - Steve
Ethan Cutkosky - Carl
Shanola Hampton - Veronica
Steve Howey - Kevin
Emma Kenney - Debbie
Cameron Monaghan - Ian
Jeremy Allen White - Lip
Laura Slade Wiggins - Karen
Joan Cusack - Sheila
Writers:
John Wells - Developed for Television by
Executive Producers:
Paul Abbott - Executive Producer
John Wells - Executive Producer
Andrew Stearn - Co-Executive Producer
Authors:
Paul Abbott - UK Version
RTÉ Two, Thursday, 1.00am