Shakedown the Town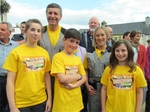 In this brand new television series presented by Ivan Minnock, the 'Shakedown the Town' command base will roll into a different town each week. Two local families will compete against each other to track down four combination codes hidden around the town and use them to unlock a safe.
In the game, the parents must complete four challenges to find the safe code numbers. Meanwhile, the young controllers are based on the 'Shakedown' bus deciphering the codes to direct the parents around town and help them complete the challenges.
Episodes
Episode 1
In the first episode, we're shaking down Birr, Co. Offaly. It's the Haslam & Hogan Families v The Rice Family.
This week the parents' first challenge begins with a bit of a bounce at Birr Castle where some of the local youngsters are out to make things difficult. In the second challenge, the adults work against the clock to complete a giant jigsaw and the third challenge brings them to St Brendan's GAA grounds where they must search the seats for another code.
In the final challenge both teams of parents have to row downstream in a raft they have built themselves. But can one team get over their fear of water during the race to the finish?
GREEN TEAM: The Haslam & Hogan Families:
Emma Haslam & Betty Hogan with young team members, Ben Haslam (10), Annabel Haslam (7), Niamh Hogan (9).
YELLOW TEAM: The Rice Family:
Martin & Amanda Rice with young team members, Saoirse Rice (12), Caoimhe Rice (10), Aoibhinn Rice (8).
Episode 2
This week, we're shaking down Westport Co. Mayo. It's the Clarke Family v the Ryan Family.
For the parents' first challenge, they must roll downhill inside a giant Orb full of plastic balls, in which one of the safe code numbers is hidden. Their second challenge sees them abseiling down the outside of a building and in the third challenge they must run the length of an inflatable walkway on the waters of Clew Bay.
After they have combated their fear of speed, height and water, the parents must take part in a man hunt around the streets of Westport.
GREEN TEAM: The Clarke Family:
Louise & Derek Clarke, with young team members Aoife Clarke (11), Conor Clarke (12), Niamh Madden (13)
YELLOW TEAM: The Ryan Family:
Carmel & Pat Ryan, with young team members Rebekah Ryan (14), Alison Ryan (10), Lachlann Ó Fionnáin (10)