Seoige & O'Shea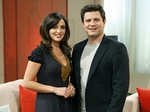 Presented by Gráinne Seoige and Joe O'Shea, Seoige & O'Shea provides the best in topical discussion and entertainment with an engaging mix of human interest stories, news items, special reports and celebrity interviews.
Every weekday on RTÉ One Gráinne and Joe will look at the human stories behind the news headlines as well as covering the national and local issues that have us talking.
Moving easily between serious issues and lighter subjects, Seoige & O'Shea will take a fresh and energetic approach that looks set to make the programme eminently watchable and highly entertaining.