Second Captains Live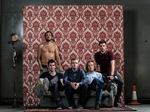 Second Captains Live is the television debut of the multi-award winning radio team of Eoin McDevitt, Ken Early, Ciarán Murphy, Simon Hick and Mark Horgan.
The show will be the place in Irish television where sport meets entertainment. Each week Second Captains presenters (McDevitt, Early and Murphy) will be joined by three of our favourite Irish sports stars and together we'll discuss the week's major stories, drawing on our guests' experience of top class competition.
The show will also feature an additional interview with a big name guest and some classic RTÉ archive. It's a brand new format for Irish TV, filmed in front of an enthusiastic live studio audience.
Second Captains Live will debut at 10.30PM on RTÉ Two on Tuesday, September 10th, immediately after coverage of the Republic of Ireland's crucial World Cup Qualifier against Austria.
RTÉ Two, Tuesday 10 September, 10.30pm
RTÉ Two, Wednesday 18 September, 23.00pm
RTÉ Two, Wednesday 25 September, 10.50pm
RTÉ Two, Wednesday 2 October, 10.50pm