Ireland's Search and Rescue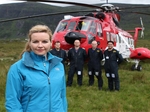 RTÉ Cork brings its third Search and Rescue series to the air on Sunday 18 November. Following on from the success of the two Irish Coast Guard helicopter rescue series, Rescue 115 and Rescue 117, Ireland's Search and Rescue is a bigger and bolder project. The year-long production involved approximately 100 cameras which were used by rescue teams across the country to capture the work they do.
The six part series, presented by Claire Byrne, tells the story of Ireland's Search and Rescue across the country, from Kerry to Donegal, Doolin to Dublin, working with all four Irish Coast Guard helicopter bases in Dublin, Waterford, Shannon and Sligo as well as RNLI stations and Mountain Rescue teams nationwide. This series also shows the work of Cork City Fire Brigade and volunteer Coast Guard groups like Doolin and Howth.
As well as showing rescue footage, we also profile individual groups and show how many agencies work together in dangerous environments to save lives. Volunteers are a vital part of Search and Rescue across Ireland. Across the country builders, fisherman, nurses, engineers and doctors give up their spare time to organisations like the RNLI, Mountain Rescue and the Irish Coast Guard units.
Episodes
Episode 1

The first episode tells the story of the search and rescue mission for the crew of the fishing vessel the Tit Bonhomme and follows the multi-agency rescue in Portmarnock, when a local mother accidently drove her car over a cliff with six children inside.
Episode 2
In Dublin, Irish Coastguard Helicopter Rescue 116 answer a call to a young man who has fallen 60 feet from a cliff in Killiney. A difficult rescue as live Dart cables surround the area.
Bonfire night in Cork and Cork City Fire Brigade have one of their longest nights of the year as terrified neighbours report bonfires burning outside their front doors.
A terrified climber is rooted to the spot with Vertigo 600m up Donegal's Muckish Mountain.
Episode 3
A boat bursts into flames in Cork Harbour.

Stranded on rocks and hanging over an incoming tide, a Cork teenager needs the help of Crosshaven RNLI

Doolin coastguard race to save a climber who has fallen from the sheer heights of it's Mirror wall.

Dublin Wicklow Mountain rescue respond to a hunter who is immobilised on wet ground. Hypothermia is the big fear
Episode 4
A dual-agency rescue of a sinking Trawler, off the coast of Howth Co. Dublin

Donegal Mountain Rescue get called to action as a couple's romantic day out turns into an ordeal when they get lost on Muckish Mountain

Cork City Fire Brigade take no chances when a tumble dryer goes on fire.
Episode 5
A dual agency rescue when a woman has a serious fall on her way down a cliff side in Howth

The Cork Airplane Crash - an aviation nightmare

Donegal Mountain Rescue come to the aid of a couple lost in the fog on Muckish mountain
Episode 6
A Hunter stranded on the wet, exposed Wicklow mountains needs the help of Dublin and Wicklow mountain rescue team.

A fisherman has his chest crushed miles out to sea. Shannon Coastguard Heliccopter Rescue 116 is his only chance of making it to hospital.

In Waterford - a special Christmas rescue, as a large cuddly man in red needs something much faster than a reindeer!