Seán Óg Ó Ceallacháin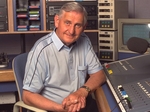 For sixty-three years Seán Óg Ó Ceallacháin, RTÉ Radio's dean of sports, has been a constant voice on Irish airwaves. But as this profile reveals, he is so much more: from historian to author; playwright and actor.but most of all an All Ireland Senior Hurling finalist. Seán Óg first broadcast on Radio Eireann in 1935 as part of the Scoil Colmchille school choir. From 1948 to 2011, he followed in his father's footsteps by hosting a Sunday night GAA results programme on RTÉ Radio.
Over that long period he has met Peig Sayers on the Blasket Islands, attended the Abbey School of Acting and the 1932 Eucharistic Congress; played top level hurling and witnessed the devastation following the bombing of the North Strand in 1941. But most importantly for Seán, he has canvassed and achieved the reinternment to Glasnevin Cemetery of Bernard Ryan, his wife's uncle, along with eight others hanged in Mountjoy Prison in 1921.
Seán retires in May 2011, following an illustrious career in RTÉ Radio and Television sport - and just two years short of his 90th birthday. In 2012 he will enter the Guinness Book of Records achieving the longest career in Radio Sports Broadcasting world-wide.
RTÉ One, Friday 29 April 2011, 8.30pm