For The Record: Seamus Mallon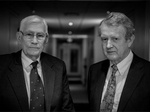 For over forty years Seamus Mallon has been a central figure in Irish politics North and South. Deputy Leader of the SDLP throughout the worst days of the Northern troubles, he has been a lifelong advocate of reform, civil rights and non-violence. His election to the office of Deputy First Minister in 1998 after the Good Friday Agreement remains his crowning achievement. However, the road to peace in Northern Ireland has been paved with adversity. In this profile documentary for RTÉ One television, Seamus Mallon talks candidly to John Bowman about his life and career: his childhood growing up a Catholic in the predominantly Protestant town of Markethill in South Armagh; the influence of his nationalist parents; his almost accidental route to political representation. He remembers witnessing murder first hand in the town where he was reared, the Republican posters that accused him of being an informer and the dangers his family endured during his years as a Westminster MP.
Seamus Mallon also recalls his role as Deputy Leader of the SDLP during the darkest period of the Troubles; his sometimes fraught relationship with SDLP party leader, John Hume; the tense negotiations leading towards the Good Friday Agreement; and the bitter tragedy of the Omagh bomb. For three years Seamus Mallon was also the first Deputy First Minister of the Northern Ireland Executive alongside First Minister David Trimble of the UUP. It was a working relationship that had Mallon wondering 'what the fates had against me'.
Mixing in-depth interview with compelling archive, For the Record: Seamus Mallon is a revealing look at the man behind the pivotal political figure that is Seamus Mallon. It is also a partial snapshot of Mallon's view of recent Northern history, including his hopes for the part of Ireland he's called home for over seventy-seven years.
RTÉ One, Thursday 27 March, 10.35pm