Seahorseman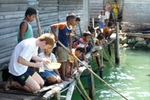 Seahorseman is the fascinating, heartbreaking but ultimately hope-affirming story of the charismatic Irish marine biologist Kealan Doyle and his dogged attempt to save an extraordinary species from extinction. Filmed on location in Connemara, Dublin, China and Indonesia, this is a business story with a decided twist. Despite his lack of commercial experience, Doyle emerges as a uniquely driven individual. Even in the face of failure and bankruptcy, it is this determination that ultimately saves him.

Episodes
Programme One: Seahorsemen
The first programme in this four part series traces the startup of Seahorse Ireland - an extraordinary company founded in the least likely location - a backwater fishing village which they envisage as the future seahorse capital of the world. Spanning the company's first two years in business, we follow Doyle and Maher as they struggle to perfect the breeding process, eventually attracting a host of innovation awards and huge media attention in the summer of 2003.

Programme Two: Not Waving, Drowning
Programme two follows the seahorsemen in the aftermath of huge media attention as they encounter technical difficulties, funding problems and the vagaries of investors. With debts beginning to spiral, Kealan loses his financial backer and his business partner as the company begins to fall apart. After five years in business, Doyle's future now hinges on a final tranche of agency funding, but there's no guarantee he'll get it.

Programme Three: Red Cow
Programme three traces the final days of Seahorse Ireland. In a last desperate attempt to save the company, Kealan strikes a deal with a new investor and opens a seahorse wholesale outlet at the Red Cow industrial estate in West Dublin. But it's too late. Mired in debt, Seahorse Ireland goes under, and Kealan is forced to relocate to Dublin with the last of his breeding stock.

Programme Four: East and West
In this final programme, Seahorseman chronicles the remarkable resurgence of Kealan Doyle's fortune. With the unprecedented success of his new tropical fish business, he decides to restart the breeding programme on a larger scale, restocking his tanks with a new variety of seahorse. We now follow him on an extraordinary fact-finding visit to China and Indonesia, where he experiences the devastating effects of the seahorse trade at first hand - returning with new stock and a renewed sense of his mission in life.