Scór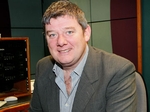 The first GAA All Ireland titles for 2009 have already been won. However it did not take place on the grass of Croke Park but on the stage of the INEC!
On a year in which the GAA is celebrating its 125th Anniversary we join another important celebration because Scór, the cultural wing of the GAA, is celebrating its 40th birthday. The Scór competition is open to every GAA club in the country and the Irish National Events Centre in Killarney was the venue for the 40th Scór All Ireland finals.
Presented by John Creedon, Scór captures some of the entertainment especially in traditional music, individual singing, recitation and the ballad competitions as well as the colourful figure dancing and set dancing competitions.
2009 Episodes
Programme 1
On a year in which the GAA is marking its 125th Anniversary its cultural wing Scór is celebrating its 40th year. John Creedon joins the musicians, singers and dancers for the recent finals in the INEC Killarney.
Programme 2
In the final programme of the mini-series we return to the INEC in Killarney in the company of John Creedon to mark the 40th Anniversary of Scór, the GAA cultural event, featuring the winning musicians, singers and dancers.
RTÉ One, Friday 31st July 2009, 7.30pm

RTÉ One, Friday 7th August 2009, 7.30pm