The Science Squad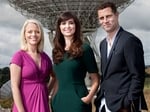 The Science Squad is back!! From the smallest cells in our body, to the far reaches of outer space, Aoibhinn Ní Shúilleabháin, Kathriona Devereux and Jonathan McCrea return to our screens to showcase more of the exciting and innovative scientific research that is currently underway in Ireland.
With the European Space Agency launching the most ambitious civilian earth observation project to date and Irish advances in equine science set to 'light up' the world of horse breeding, it's been another fascinating year for science. And scientific collaboration has never been so important or indeed lucrative. With almost €79billion of funding available to European researchers over the next 6 years through Horizon2020, it's truly exciting to see so many Irish scientists leading the way.
This year, Aoibhinn travels to Uganda to find out about an Irish-led water purification project which could save the lives of millions, Kathriona investigates potentially lifesaving diagnosis for pregnant woman which is being pioneered in Cork, and Jonathan meets the scientists who are planning a one-way trip to Mars!
In Weird Science, Fergus McAuliffe returns to tell us about carnivorous Irish plants, magnetic flips, and tiny remnants of Cold War technology that continue to float in the skies above us even today.
The series also features incredible developments in the world of Stem Cell research, we meet the next generation of computer coding geniuses,
View from Above: The European Space Agency's Copernicus Programme is the most ambitious civilian earth observation programme in the world. The first satellite, Sentinel 1a, was launched from Europe's Spaceport in French Guiana in April 2014, and Jonathan meets Barry Fennell from Enterprise Ireland to find out how the data is already being put to use in Ireland: from advances in environmental observation for flooding and coastal erosion, to the monitoring of our coastal borders and homeland security. It's a hugely exciting time for this technology and Jonathan takes to the sea with Ned Dwyer from CMRC and Captain Brian Mathews from the Irish Navy to find out how they are combining satellite imagery with Automatic Identification systems to improve ship detection and tracking capabilities to help monitor drug smugglers and fishing vessels breaking regulations.
What Lies Beneath:
Ireland is renowned for its lush green grass. but lurking between the blades is a dangerous threat. Liver flukes are a parasite present on most Irish farms and they're estimated to cost Irish farmers up to €90 million a year. Most farmers currently do a general douse of their sheep and cattle against liver fluke, but this can be expensive due to required milk withdrawals and the overuse of flukicides has also led to the emergence of resistant strains of liver fluke. Kathriona meets Riona Sayers from Teagasc to find out exactly what liver fluke is and the damage it can cause, and the intrepid two snap on the latex gloves to analyse a cow's liver that has been home to flukes. It's not for the faint hearted!! Back on the grass, Alan O'Riordan from Tyndall National Institute discusses the new technologies that he and Riona are developing to help farmers instantly diagnose the condition using just their computer or mobile phone, and Kathriona meets farmer Shane Fitzgerald, who had a case of liver fluke on his farm in 2009.
Weird Science - Magnetic Flip?:
Ever feel like your world has been turned upside down? You might be more correct than you think.
Saving Lives with Sunlight: Prof Kevin McGuigan in RCSI in Dublin has been working for 20 years on a deceptively simple solution which can convert dirty water into clean water with no chemicals or additives of any kind. Aoibhinn travels to Uganda to meet Kevin and to find out about his latest Solar Disinfection (SODIS) project which is being funded by RCSI and the Higher Education Authority through Irish Aid. The project involves filling transparent PET-bottles or glass bottles with contaminated water and then exposing them to the sun for 6 hours. During this time, the UV-radiation of the sun kills disease-causing pathogens and while the process doesn't actually make the water clear, crucially, it kills the bacteria in the water and makes it safe to drink. The beauty of this solution is that it requires no technology, very little infrastructure and operates solely on the heat of the sun! Aoibhinn visits Kevin's PhD student Jacent Asiimwe to find out about the science behind the process, and the team also meet with lots of schoolchildren who will directly benefit from the technology.