The Science Squad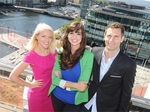 Aoibhinn Ni Shuilleabhain, Kathriona Devereux and Jonathan McCrea return to present the second series of The Science Squad and find that Ireland's researchers are still very much at the top of their game when it comes to international scientific advances

Travelling the country, Aoibhinn, Kathriona and Jonathan investigate some of the most exciting and groundbreaking projects currently underway here. But, just as importantly, they address the question of how this work will affect our audience by meeting the men, women and children whose lives have already been directly affected by the work or for whom the very latest developments will have a huge impact.

This year the team investigate important drug developments that could lead to treatments for the potentially deadly medical condition of sepsis, meet the scientists who are sending their next research project to the International Space Station, and take a look into the controversial world of genetic testing.

And this year we're including a new segment featuring UCC Environmental Scientist Fergus Mc Auliffe's, who'll bring us some of the more unusual and unlikely stories from the wonderful world of science: from the wood frog that 'freezes to live', to the willow trees that are being used as wastewater treatment systems.

Programmes
Programme One - Inflammation/Sepsis - Luke O'Neill
Prof Luke O'Neill and his team at Trinity College Dublin are leading a major international research project involving 10 universities, including MIT and Harvard in the US. They are exploring inflammation and its link to major diseases like sepsis.

Luke and his team are testing an existing drug, which could very well be used as a future treatment for Sepsis. The drug, which is currently used to treat Epilepsy, works by effectively stopping the body's immune response from moving into overdrive and potentially going out of control. Details of Luke's research have been published in the prestigious scientific journal Nature and the results are being supported by findings in labs all over the world.

This story also features sport reporter Daraine Mulvihill who experienced the devastation of sepsis when, as a teenager, she developed Meningococcal Septicaemia and had to have her hands and feet amputated as a result of the infection.

Programme One - Plants in Space - Gary Stutte

One of NASA's long-term goals is to reproduce the earth's complex eco system to establish life in space. Plants are absolutely critical for long duration Space missions; they will purify the atmosphere through photosynthesis, they will purify water and they will produce food. Prof Gary Stutte is a Principal Investigator at Kennedy Space Centre in Florida and is currently a Marie Curie Research Fellow at Limerick Institute of Technology. Gary and his team are growing plants in state of the art growth chambers in LIT that try to replicate the microgravity environment on-board the spacecraft. The plant they are looking at is related to the clover and next year plants from the Limerick project will travel to the International Space Station aboard the Falcon 9 rocket launched from Cape Canaveral. LIT was one of only 8 international projects selected for inclusion on that trip and in fact this is the first time an Irish institution has led a life science experiment on the International Space Station.
Programme Two - Sleep Apnoea - Walter Mc Nicholas

With up to 200,000 people in Ireland estimated to be suffering from sleep apnoea and growing research highlighting how devastating the effects of the disorder can be, the Department of Transport has issued a new ruling that any person diagnosed with the condition must declare so on their driving licence application. We feature the Sleep Lab in St Vincent's Private Hospital where they diagnose and treat the condition, we also speak to Conor Heneghan of UCD Spin-Out BiancaMed (now part of global sleep diagnostic company ResMed) about new technologies they've developed which diagnosis in the home (the first time a clinically approved device has been developed for the market) and then we feature a personal testimony from Dan Smyth from the Irish Sleep Apnoea Trust who suffers from Sleep Apnoea and speaks at length about how diagnosis and treatment has transformed his life.
Programme Two - Bone Growing - Fergal O'Brien

An Irish team of researchers led by Dr Fergal O'Brien at RCSI, have made an exciting breakthrough, having developed a new organic material which harnesses the body's own regenerative power to repair damaged bones and cartilage.
Fergal discusses the new material they have developed - a type of organic scaffold known as HydroxyCollT. The material has already been used to rehabilitate a horse, and we travelled to the horse's training ground near Kells to see first-hand how this treatment could transform the racing industry by reducing the need for horses to be put down. We filmed with Prof Arthur Tanner, Surgacall board member and Team Doctor for the Leinster Ruby team, and met with Irish rugby star Gordon Darcy. Gordon showed us the scars from multiple fracture injuries in his arm and talked about the comfort of knowing that this type of treatment might soon be available for players.

Programme Three
Irish Science in Space
Irish scientists are making a name for themselves in space exploration across a number of fields. Aoibhinn meets the researchers who are developing new materials to protect a new €500million ESA satellite from the intense temperatures involved in flying closer to the sun than ever before, and meets scientists who are investigating novel ways to prevent the negative impact of space flights on astronauts - the results of which could help in the fight against Type 2 Diabetes.
Air Quality Monitoring
The ability to breathe is something we all take for granted, but Ireland actually has the fourth highest prevalence of asthma sufferers in the world. Kathriona meets Gary and his 3-year-old son Noah who both suffer from asthma to find out how it impacts on their life, and meets Micheál O'Dwyer from the Environmental Protection Agency to investigate the EPA's new air quality index which has highlighted some interesting facts about our air quality and its impact on our health.
Human Genome
The sequencing of the first human genome came about in part through quantum leaps in information technology, and now members of the general public can access information about their own genes, and potentially the risk of developing diseases such as Alzheimer's or Cystic Fibrosis through genomic testing. Jonathan decides to investigate this controversial topic by looking at his own genome to find out what these kinds of tests might reveal about his potential future health and discusses some of the psychological implications of finding out this kind of information for both him and his family.
Programme Four
Electric Vehicles
The Irish Government has committed to getting enough electric passenger vehicles on the road by 2020 to account for 10 per cent of all vehicles (a projected 230,000 electric vehicles). But how are we doing on that pledge? And how well are we set up for the electric cars that are currently on our roads? We investigate how things are going in terms of EV uptake and advances in battery technologies, and visit the Aran Islands to check in with the homeowners who are now entering the final year of a three-year trial of electric vehicles to see how the project is going.
Sexed Semen
A new trial into the controversial viability of using sexed semen in Ireland, which allows farmers to determine the sex of their calves, has the potential to revolutionise the dairy and beef industry. Conventionally there is a 50/50 chance of male or female off spring, but in the dairy industry, female offspring are more desirable than male offspring. Dairy farmers using sexed semen will be able to increase the numbers of heifer calves born and reduce the number of unwanted male dairy calves. Kathriona meets Teagasc researchers who are heading up a €1m project with ICBF and US-based Sexing Technologies to establish the viability of using sexed semen in Ireland, and speaks to Farmer Kevin Twomey about the importance of this type of ongoing research, particularly in light of facilitating the 50% increase in milk output as set out in the government's Food Harvest 2020 policy.
Do you have what it takes to be a top surgeon?
It has been acknowledged that certain natural abilities and personality characteristics can influence surgeons' performance. At the Royal College of Surgeons, new technologies have allowed for a move towards more skills lab training involving simulators, where students can learn skills in a controlled environment, allowing for safer and accelerated learning. We test our presenter Jonathan's natural suitability to a surgical profession, highlighting both the new technology being used in skills labs and the human factors modules that are transforming surgical training. Does Jonathon have the natural physical and cognitive skills suited to a career in surgery?
Programme Five
Grass and Satellite Imaging
With our reputation as the Emerald Isle precious, most of us do not give grass much thought. But with the recent fodder crisis and high agricultural industry growth targets set for 2020, growing the nation's most important crop has become very serious business. Stuart Green, a remote sensing specialist at Teagasc's research facility in Ashtown, tells Kathriona how we are now using NASA and the ESA's satellite technology to monitor grass growth using infra-red technology. It's a research project that quite literally involves watching grass grow!
Heat Pumps
While it may be easy to turn a blind eye and place the blame elsewhere, the fact is that we produce a whooping 6 million tonnes of carbon dioxide directly in our homes. And with EU mandatory targets, calling for 20% of all energy to come from renewable sources by 2020, our over reliance on fossil fuels will have to change, whether we like it or not. Jonathan travels the country to meet a hotel owner and householder who have chosen to implement new ways of improving the efficiency of their own homes and business that not only benefits the environment but their pockets too!
MACSI Workshop - UL
Everyone knows Aoibhinn Ni Shuilleabhain loves maths, so she's in her element at a workshop where Industry leaders such as Diageo and Dell can bring their technical problems to be solved by mathematicians from all over Europe! Aoibhinn investigates some real-life problems that maths and science can provide solutions to, and finds out how the workshop has improved the management and distribution of the HSE's blood supplies in the Limerick area.
Plastic-eating Bugs
Ireland is among the highest waste producers in Europe - our waste every year would fill Croke Park to the top of the stands! Thankfully we've moved quickly from a position of almost total reliance on landfill to a high level of recovery of certain recyclable materials, however plastic bottles have a low recycling value and a lot of these bottles (which are often non-biodegradable) end up in landfills forever. So how can we convert that waste into something that is valuable? Kevin O'Connor at UCD may have the answer, with new technology that uses a combination of chemistry to break down plastic bottles and bacteria to convert the breakdown product to a biodegradable plastic.
Programme Six
Quantum Energy Project
Energy sources have changed dramatically over the last few years with a move towards sustainable energy from renewable sources, specifically wind. One of the key challenges is how to store wind energy, and Kathriona investigates the Quantum Heating System which allows us to store surplus energy generated by wind farms and then release it as heat when it is needed.
GP Surgery of the Future
The Biomedical Diagnostic Institute in DCU are working on a number of devices that will allow for simple testing of major diseases, such as cancer, liver disease and cardiovascular conditions, in primary care settings such as the GP office rather than being referred to hospitals for major testing, such as mammograms and colonoscopies. Aoibhinn looks at the technology behind these new tests which have the potential to transform the future of healthcare.
Solar PVs
Photo voltaic (PV) technology is a form of solar technology that can convert natural light into electricity. Production of PV technology worldwide has been doubling every two years, making it the world's fastest-growing energy technology - in the consumer electronics and wireless sensors markets alone powering solutions is a multi billion euro industry. Jonathan meets the team at SolarPrint, who specialise in the area of dye sensitised solar cell (DSSC) technology - the next generation of photo-voltaic technology - which involves the production of power-generating solar cells that can be printed and applied to a range of different surfaces.
Programme Six
Malaria
Malaria is a huge global public health problem, killing over 1 million people each year. Recent attempts at a new vaccine, including Bill Gates and GlaxoSmithKline world's largest malaria vaccine trial, have proven unsuccessful. However, all is not lost, as a new vaccine developed in Ireland is now undergoing clinical trials. Kathriona meets Prof Sam McConkey, Head of International Health and Tropical Medicine at RCSI and a Principal Investigator on the trial to find out about the development of this potential vaccine, and speaks to some of the volunteers who are involved in the clinical trials. In Oxford, Kathriona meets Irish researcher Adrian Hill who is conducting Phase II of the trial which will test whether the vaccine (now proven safe in Phase I) produces an immunological response to Malaria in the body.
The Science of Running
There has been an explosion in the popularity of running in Ireland in recent times. Aoibhinn gets into her running gear and takes a close look at how science is facilitating this passion, both from a physical and mental point of view with apps and monitoring technology, to gait analysis and clothing/footwear design.
Hexwind - Offshore Wind
It's estimated that approximately 25,000MW of offshore wind could be installed off the west coast without adverse environmental effects. This is more than 4 times the national electricity generation requirement. The scope for fixed offshore wind on the west coast is limited due to depth, foundation design, installation times etc, therefore floating wind is receiving more attention. Jonathan investigates the Hexwind research project which is being coordinated by Beaufort Research in UCC, and looks into the advantages of floating platforms over fixed and how this could contribute to Ireland's foothold in the sustainable energy market.