School Around The Corner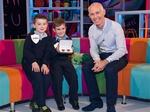 School Around The Corner is back for a new series. Ray D'Arcy meets schools from all over the country and tonight children from St Patrick's National School, Drogheda and Lurga National School, Gort take centre stage.
Through the eyes of the youngsters, Ray finds out what cow poo really tastes like, what happens when you fall in love, the modern way kids make up with their best friends and is put on the spot when challenged to a bit of one on one Taekwondo - needless to say it doesn't go well.
Every week will also feature a celebrity going back to their old school and this week it's chef Rachel Allen who returns to her old alma mater, where we find out it was a case of 'could do better' as she nearly got chucked out of her Home Economics class. There's also an old school classic performed by talented young Blues guitarist and singer Melina Du-Vivier Keane.
Episodes
Episode 2 Sunday 18th May
This week on School Around the Corner, Ray D'Arcy meets the children from St. Etchens School Kinnegad and Monkstown Educate Together as they spill the beans on their mums, dads and teachers and tell us exactly how they reckon the world should work. Our host Ray D'Arcy doesn't get off lightly either as the children quiz him on how old he really is and even at one stage make him disappear with some Harry Potter wizardry. There's a performance from Gaelscoil Aonach Urmhumann, Nenagh and TV Presenter Blathnaid Ni Chofaigh finds out if her school around the corner is just the same when she returns to her old alma mater - Scoil Uí Ghramhnaigh in Ráth Cairn.