Sarah & Steve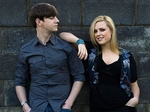 Sarah & Steve is a new comedy from the makers of Dan & Becs which intercuts the video diaries of the two main characters as they discuss their struggling relationship, stagnant careers, and the unavoidable drama of an average night out in Tallaght.
Steve is unsure of what he wants out of life. It's not that he doesn't like living in Tallaght, he just doesn't want to settle down and live his parents' life just yet. Steve comes from a working class family who live on the Springfield estate. Instead of taking a trade like most of his friends, he opted for English in college but lasted all of four months. He wanted something different but found this to be just a little bit too different. Steve feels somewhat removed from his friends and family in Tallaght. He feels at home there but at the same time somehow detached. He buries this feeling and his fears by living the life of any twenty something male. He and his mates exist in a world of messy sessions with little thought or eye on the future. Sarah has always seen through Steve's mad-lad routine, and knows he is smarter than he lets on. Recently Steve feels like he might like to go traveling, but he's fairly sure Sarah wouldn't come with him.
Sarah is in every sense of the word a Tallaght "bird" (as Steve insists on calling her). She lives with her mother on the Fettercairn estate and rarely ventures further than The Square. Since leaving school, she has been working as a "stylist" in Classy Cuts hair salon. She's very good at her job and could easily find a better-paid job in a more upscale salon, but she likes things fine where she is. Despite not really enjoying school, Sarah has real street smarts, and a sharp tongue that can put even the most hardened scumbag in his place. but beneath it all she has a vulnerable side that only Steve gets to see. Sarah's father left when she was only seven, and she has always craved a large family like Steve's. She's starting to get frustrated with Steve who, although completely committed to her, has no desire to settle down just yet.

Over the course of the series, Steve and Sarah clash over what their future together holds. Steve encourages Sarah to widen her horizons beyond the borders of Tallaght, but it soon becomes clear that a chav-tastic trip to the Canaries and a messy weekend at the Electric Picnic may not have been the best first steps. Sarah struggles to help Steve appreciate the place he comes from and the people who love him, but he isn't particularly impressed with his surprise birthday party, planned by Sarah and his mother, complete with fairy cakes, streamers, and a heaping plate of curly kale. Amidst the madness of Steve's mates and Sarah's aggressive, GHD-wielding co-workers, can their relationship survive?
Cast & Crew
Charlene Gleeson
(Actor, 'Sarah')
Charlene graduated from the Gaiety School of Acting in 2005. Her first leading role in a television series came in RTÉ's TROUBLE IN PARADISE. She played the role of Jolene Little in the drama directed by Emer Reynolds. This autumn she will appear in the role of Amy in RAW and in the lead role of Sarah in RTE and Accomplice Television's SARAH & STEVE, directed by David Coffey. She appeared in the live action/animated TV series BADLY DRAWN ROY and can be seen in the feature film BOG BODIES, directed by Brendan Foley, and starring Vinny Jones, Jason Barry and Nora Jane Noone. Her theatre work includes ANTHONY AND CLEOPATRA directed by Catherine Murphy, WAITING FOR GODOT directed by Patrick Sutton, ONE HEALING with Theatre directed by Gavin Quinn (Pan Pan) and WHO'S HOUSE directed by Mary Elizabeth Burke Kennedy. She also performed in PLAYBOY OF THE WESTERN WORLD! at The Abbey Theatre, directed by Jimmy Fay.
Emmet Kirwan
(Actor, 'Steve', Co-Writer)
Emmet Kirwan graduated from the acting training programme at the Samuel Beckett Centre in Trinity College in 2001. Film and Television credits include THE TAKE (Sky One), INSIDE I'M DANCING (Universal), THE BOYS AND GIRL FROM COUNTY CLARE (Metro-Goldwyn), ELLA ENCHANTED (Miramax), PORCELAIN (Inis Films), SHATTERED (I-Wire Films). Emmet also played the parts of Animal in the RTE drama series LEGEND and Ray McDermot in THE BIG BOW WOW, also for RTE. Theatre credits include MONGED (Fishamble), MUSHROOM (Storytellers), ALONE IT STANDS (Andrews Lane), CARSHOW 3 (Corn Exchange/Barabas), WHERE HE LIES (Island Theatre Company), LADIES AND GENTS (Semper Fi), RENT (Olympia), THE INDIAN WANTS THE COOMBE (Purple Hart) and ELECTION NIGHT (Bewleys). Emmet also co-wrote (with David Coffey) and plays the role of Steve in the new Accomplice TV/RTE comedy series SARAH & STEVE.
David Coffey
(Director, Co-Writer)
David Coffey is a writer, director, editor, (occasional) actor, ukulele player and (now) blogger born and raised in Dublin, Ireland. In 2006 Dave developed a pilot for a television show called DAN & BECS which was picked up by Accomplice Television and made into a ten-part series for RTÉ Two, broadcast in early 2007. Dave wrote, directed and played the lead role of Dan in the show. Series 2 of DAN & BECS followed later that year and in December 2007 David began writing a weekly column as "Dan" for the Irish Independent's Day & Night Magazine. In 2008 Dave directed a young peoples' programme called SWEDED TV for RTÉ Two's TTV. In early 2009 he co-wrote and directed a new ten-part comedy series called SARAH & STEVE scheduled to be broadcast on RTÉ Two in the Autumn. He is currently directing a second series of SWEDED TV also scheduled to be broadcast in the Autumn. When he's not working (which is most of the time) Dave does as little as humanly possible.
Accomplice Television
Accomplice Television specialises in quality drama and scripted comedy. Notable productions include the highly popular BACHELORS WALK (three series and a Christmas special) and the multi award-winning PURE MULE. More recently, Accomplice has produced two series of DAN & BECS for RTE Two, and also the spin-off series SARAH & STEVE, the Diet of Worms comedy pilot DUBLIN STORIES for RTE Two, and the upcoming PURE MULE - THE LAST WEEKEND for RTE One, and BELONGING TO LAURA, a feature length adaptation of Oscar Wilde's Lady Windermere's Fan for TV3, both to be broadcast in September. Accomplice Television is the television wing of Samson Films, whose recent successes include EDEN - winner of Best Actress at the 2008 Tribeca Film Festival - and the Oscar-winning musical ONCE.

RTÉ Two, Monday 14th September 2009, 10.50pm
Watch Sarah & Steve