TV50: Rural Portrait: A Quiet Way Of Life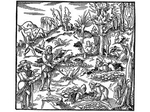 This programme is one of a series of programmes made in 1968 as part of what was seen as a unique project at the time. Instead of making documentaries about famous men and exotic subjects, the Series Producer, Odran Walsh, decided to make portraits of ordinary lives lived in rural isolation.
Tony Coyle works in a cotton making factory, producing tea towels. But he is at heart a country man who lives in his small cottage with his parents and new wife, who hails from Drogheda. He and his father work well together mixing cement and adding every year to their modest home. His wife and mother work quietly together cooking and baking and keeping house for the two men.
Their lives are quiet and they are content. Tony's father keeps a large vegetable garden and they all eat home produced food. His father also keeps his own bees and they produce lovely Meath honey for family and friends. His wife knits quietly in the garden. She alone misses the buzz of town life, where there was always something to do in Drogheda, with friends constantly calling. But she claims to have adjusted to rural life.
But Tony has a special talent. He is a dowser, a water diviner. He finds water with a triangular stick while the farmers and engineers stand by with a drilling machine to bore a well. The local county engineer has confidence in Tony Coyle's talent. The Ordnance Survey maps provide reliable indications of a water presence in a farmer's field. But the indications are never precise and it can take many expensive sessions with the drill bore to locate a well. So that's where Tony Coyle's talent comes in. His skill as a dowser is more easily able to find an exact spot to drill. So Tony Coyle is much in demand as a dowser.
A unique talent for a quiet unassuming man whose portrait reveals a gentler more content Ireland.
Produced and directed by Michael Monaghan
RTÉ One, Friday 27 July 2012, 8.30pm