Ruby and the Duke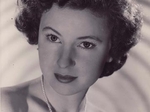 Duke Special, one of Ireland's most extraordinary and distinctive entertainers, tells the fascinating and poignant story of Belfast-born 1950s vocalist Ruby Murray in the Hardy Pictures documentary 'Ruby and the Duke'. And this encounter with Ruby's life and music has inspired Dublin and Cork performances with the RTÉ Concert Orchestra, as well as a special CD release.
"Up and down the country, people are falling for teenager Ruby Murray, the singing strawberry blonde from Belfast's Donegal Road, who is climbing to fame as the 'Heartbeat Girl.' Already she topples the giants of disc and leads the parade of best-sellers."
Music Review 1954
Imagine a world in which Elvis hadn't yet hit the airwaves and rock n roll was for rebels.
A world in which the pop charts overflowed with sweet vocalists or sexy crooners smoothing their way into lovers' hearts. And outshining them all, a young singer from Belfast whose distinctive, husky voice could be heard in every dance hall across Ireland and the UK.
An entire generation fell in love to the unique, seductive strains of 'Heartbeat', 'Softly, Softly' and 'Slowly with Feeling.' Ruby Murray encapsulated the glamour and romance of the 1950s and in one heady year broke a record which has never yet been surpassed: five singles in the Top Twenty at the one time.
From child performer to overnight fame, she was Ireland's answer to Judy Garland - and with a personal life as heartbreaking. The first of many outstanding Irish vocal artists who have blazed a trail through the charts, now a new generation are enjoying the style and sounds of the era which Ruby defined.
In 'Ruby and the Duke', directed by Michael Beattie, Duke Special takes the audience on a personal journey to celebrate the achievements of the "velvet-voiced songstress" and reveal the darker side of show business success and the impact of the rock 'n' roll revolution. Along the way, he meets Paul Gambaccini, Camille O'Sullivan and Phil Coulter, as well as Ruby's former husband Bernie Burgess, in Blackpool where their life together began.
And after his stunning RTÉ Concert Orchestra début in 2008, he returns with concerts in Dublin and Cork, moved by his engagement with Ruby through the documentary. With the orchestra conducted by David Brophy, he re-creates Ruby's hits with special guests Mary Coughlan and Mary Kate Geraghty (aka May Kay of Fight Like Apes), alongside a set of his own inimitable music. For more information and tickets, go to http://www.rte.ie/performinggroups/2011/0202/coduke.html.
To buy the special CD of Ruby Murray hits recorded by Duke in support of Depaul Ireland, go to http://www.dukespecial.com/dukestore/duke-special-sings-the-songs-of-ruby-murray.html.

RTÉ One, Tuesday, 10.15pm