Rough Rider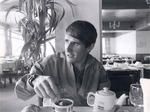 A Wildfire Films/Ergo Films production in association with RTÉ and Bord Scannan na hÉireann/ The Irish Film Board. Directed by Adrian McCarthy. Produced by Martha O'Neill and Tony Whelan.
When Paul Kimmage writes and talks about cycling, it's different to other sports for him. It's personal. He gets enraged with a sport where young men have lost their lives to doping. He loves the sport. He hates the sport. Welcome to the complex world of ROUGH RIDER.
Filmed over two years, this documentary feature film brings you into the world of professional cycling. Told against the backdrop of the fall of Lance Armstrong and the 2013 Tour de France, we follow former professional cyclist turned journalist, author and anti-doping advocate Paul Kimmage on a journey of loss and redemption.
Additional Info
Who is the man who once referred to Lance Armstrong as 'the cancer of cycling'?
This film follows contentious journalist and cycling whistleblower, Kimmage, as he searches for answers to difficult questions about doping in the sport he loves.
In the mid 1980's, Paul Kimmage was part of Ireland's golden age of cycling, riding alongside World Number One, Sean Kelly, and Tour de France winner, Stephen Roche. But, after his third Tour de France, in 1989, he walked away, disillusioned with the sport he loved. Within twelve months, he became a journalist and wrote his first book 'Rough Ride' which broke the code of omertá (silence) in cycling. He was the first former cyclist to spill the beans about doping. That decision was to change his life.
Today, Kimmage is a multi award winning author and one of the most outspoken sports journalists in the muddy world of professional cycling. His passionate stance against doping has brought a combination of admirers and enemies. Over the last 23 years, former teammates have spat in his face, described him as a failed athlete and accused him of jealousy and bitterness. His pursuit of cleaning up cycling has cost him some of his closet friendships and put severe pressure on his career as a journalist.
Told against the backdrop of the fall of Lance Armstrong and the 2013 Tour de France, we follow Kimmage as he deals with his demons and his legal battles as he makes his way around the exhausting Tour de France circuit in his campervan, with his wife at the wheel. While attending press conferences and watching the emergence of a new generation of stars led by race favourite Chris Froome from Team Sky, Kimmage is in search of answers to difficult questions about doping in the sport he loves.
The 2013 Tour promised to be a remarkable 'make or break' year for the event after a calamitous six months for the sport. In September 2012, the US Anti Doping Agency published a report highlighting the biggest doping scandal in the history of cycling.
The fallout was severe with Lance Armstrong getting stripped of his record breaking seven Tour titles. Paul Kimmage was one of the few journalists vindicated, along with fellow Irishman David Walsh. But ironically Kimmage found himself at the centre of the controversy with a high profile defamation case taken against him by the world cycling body, UCI, over articles he had written about doping. Kimmage's profile jumped around the world with an underground swell of support and a Kimmage Defence Fund set up in the US raising more than $90k from cycling fans to help him fight his case. Within months the UCI suspended its case against Kimmage.
Since September 2012 our camera followed Paul Kimmage through a turbulent 12 months in his life witnessing some extraordinary events unfolding. Filmed in Dublin and France, using the twenty-one days of the 2013 Centenary Tour de France as our narrative backbone, we get a fascinating insight into the world of courage, drugs and controversies in the most beautiful and punishing sport on the planet.
Throughout the journey we speak to Kimmage's family, journalists, friends and former team-mates, including Stephen Roche, David Walsh, Jonathan Vaughters, Bonnie D Ford, Richard Moore and Kevin Kimmage all of whom give us an honest insight into the fallout from Kimmage's obsession with doping in cycling.
Right now there is no sport with a bigger credibility fight on its hands than cycling, and no event where genuine romance coexists so uncomfortably with hideous reality than the Tour de France. What is it about the Tour de France? Is it possible to win the most grueling race in the world without doping? Paul Kimmage, more than anyone, wants to believe so.