Room Wanted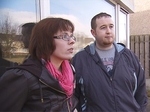 Mortgage arrears and negative equity are not the only housing problems in Ireland. With nearly 100,000 people on the social housing waiting list, family accommodation is at breaking point. Local authority housing stock is full. Large numbers of social welfare tenants have spilled into the private rental market. Young families, the elderly, settled travellers and the homeless are just some of the categories of people desperate for a roof over their head, a room of their own, a place to live.
In Room Wanted, the journeys of several families are charted in their bid to find a permanent home using Ireland's social welfare system.
Episodes
The families searching for a council home include:
Trudie Core, her husband Oscar and their two young children have been on the housing list since their return from recession-wracked Spain last year. They are looking for a home on rental supplement but are currently living cramped with Trudie's parents.
Lisa O'Sullivan has been on the housing list for eight years. Nearly blind and living in rural Cork, she needs to find a home closer to the city and medical services.
Young couple, Diane Joyce and Daragh Hogan, are on the Carlow housing list. They're hoping to be one of the first beneficiaries of a NAMA project converting a private ghost estate into social housing.
Margaret O'Toole is one of the last remaining tenants in a 60-year-old Dublin flat complex, St. Teresa's Gardens. Earmarked for regeneration during the 'Boom', the complex now sits largely boarded up and abandoned.