Roomers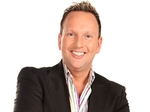 Roomers is a brand new exciting interior design series, which is hosted by Neville Knott. In this eight part series Neville is joined by interior designers Joseph McCann, Karl Fradgley and Anne-Marie Hamill, who will bring their specialist skills to different houses around Ireland as they attempt to transform unsightly rooms.
Neville will guide the Roomers expert team as they tackle unpleasant living rooms, bedrooms and outdated kitchens. Each week the designers will work with three different homeowners living in the same area as they attempt to help them achieve their dream rooms. Each expert will hope to produce the best transformation but it's the homeowners themselves who'll decide the winner!
Whether it's a kitchen stuck in the 70s, a bland and boring living room or a bedroom on a bargain basement budget - the Roomers will use their style, skills and know-how to come up with stunning interiors.
The series contains a wealth of wonderful interior design tips, a variety of transformation budgets, lashings of fly-on-the wall footage and best of all gives the audience a chance to watch strangers poking around each other's homes.
Design Team
Joseph McCann
Joseph McCann hails from Belfast. He originally studied fine art and furthered his studies in Interior Architecture at Griffith College Dublin.
With a unique style incorporating both modern and classic elements, Joseph's designs balance function with aesthetics to create a stylish living environment that are personalised to suit the client's needs.
Joseph would describe his own style as... "Contemporary with strong retro influences and inspiration from classic twentieth century design".

Joseph has had a successful design career spanning seven years, specialising in both residential and commercial interior design.
Joseph is no stranger to television, having appeared as a designer on RTE's 'Showhouse' in 2008 and modelled for top Irish agency First Options.
Joseph has recently set up his own Dublin based company, J Design.
Karl Fradgley
Karl Fradgley is one of Ireland's leading interior designers.
In 2004, Karl qualified at the Limperts Academy of Design with an International Diploma in Interior Design. In 2007, Karl received a Higher Diploma in Interior Architecture and Commercial Design.
Karl lectures in Interior Design at Griffith College Cork. Where his students consistently receive the highest average markings nationally for any interior design diploma course.
Karl's work has been described as:
"Bold with confident use of lush colour", "Organic and holistic", "Stylish in a softly understated manner, implemented with skill and an eye for detail .... " "Uniquely fusing feminine and masculine trends to create a look that feels as good as it looks ....."
Recognised as one of Ireland's leading voices in interior design Karl has remained at the forefront of the design sector, since first appearing on R.T.E.'s Showhouse in 2005. Karl has also made numerous appearances as the in-house designer on R.T.E.'s At Your Service and T.G.4's Shabby go Chic.
Karl has also been involved in design journalism. He has blogged for Ireland.com and has been published in several design magazines including; House and Home, In Style Magazine and the En Vie online fashion publication.
Anne-Marie Hamill
Originally from Mayo, Annemarie lives and works in Co. Louth. Anne-Marie first entered the creative world 'of design' when she took a year out to live in New York in 1998. Upon her return from the big apple, after visiting many furniture exhibitions, museums and antique shops, and taking classes in oil painting and pottery, this prompted her to study for a diploma in Interior Architecture. Six months into her diploma Anne-marie started working on a consultation level and has been specializing in residential design ever since.
Award winning Hamilton Interiors specialize in, one off builds working right through to finishing touches. As well as many residential projects for private clients, Anne-Marie has recently completed commercial interiors fit-outs for several hotels, shops and beauticians including Mizu beauty salon in Dundalk.
Over the years, Anne-marie has written for a selection of magazines and newspapers and also tried her hand at teaching an introductory evening class in interior design at Rathfarnham and Lucan Community College.
When it comes to residential design, Anne-Marie always pays particular attention to the dressing of beds and the layering of fabrics, and if asked to describe her style Anne-Marie would say
""an eclectic mixture of classical quality and richness".